Here's a great article from WebFX Blog

Shopify is one of the most well-known ecommerce brands out there. If your business sells products online, Shopify is an excellent tool for helping you keep up with your inventory and collect sales data from across all your selling channels.
But Shopify can do more than simply help you sell your products. You can also become a Shopify Partner, a special status with Shopify that brings numerous business perks.
Of course, you may be wondering — What exactly is a Shopify Partner, and why should you bother becoming one? Moreover, how can you even begin a Shopify partnership?
We'll answer all three of those questions below, so read on to learn how to become a Shopify Partner. Then sign up for Revenue Weekly to get more online marketing tips from the agency with over 20 years of experience!
For even more digital marketing advice, sign up for the email that more than
190,000

other marketers trust:

Revenue Weekly.

Sign up Today!
What is the Shopify Partner Program?
The Shopify Partner Program is essentially a contract system between Shopify and select businesses that use it. When you become a Shopify Partner, you agree to promote Shopify in return for exclusive company benefits.
The most common way for users to uphold their end of the partnership is simply to refer clients to Shopify. As they do that, they gain access to helpful Shopify resources and even earn a commission.
It's also free to become a Shopify Partner, so you don't have to plan out a portion of your budget for it.
Benefits of becoming a Shopify Partner
When you begin a Shopify partnership, you get several benefits with it — and those benefits make it well worth the time it takes to join. Here are three fantastic advantages to becoming a Shopify Partner!
1. Company reputability
One of the first ways a Shopify partnership can benefit you is in terms of your reputability. Part of the process of becoming a Shopify Partner involves taking tests that demonstrate your ability to work with Shopify apps. By showing that you're a Shopify Partner, you're showing your proficiency with their software.
Furthermore, even if people don't know the specifics of what it means to be one, seeing the label of "Shopify Partner" on your website can do a lot to make you sound more professional and knowledgeable. This is particularly true if you're a B2B company, as your audience will likely be familiar with Shopify.
2. Learning opportunities
Another perk Shopify offers when you begin a partnership is the Shopify Partner Academy. The Academy is a program designed to teach you more about how Shopify works. It's a valuable resource if you're looking to drive better ecommerce results.
Some of the Academy resources exist to help you better grasp the technical workings of the Shopify platforms. Others focus on good business strategies to employ in Shopify. In both cases, you can take tests to certify your expertise in those areas once you learn about them.
3. Extra revenue
The final — and perhaps best — benefit of a Shopify partnership is simple: You can get paid. Whenever you contribute to Shopify through your partnership, you can earn monthly income straight from Shopify. If you're looking to boost your revenue a bit, this is an excellent way to do it.
Typically, the ways you earn revenue from Shopify involve referring new clients or building Shopify stores or apps. The Shopify Partner Academy has plenty of resources dedicated to helping you learn to do that, so it will be well within your ability.
Types of Shopify Partners
Not every Shopify Partner is exactly the same. There are different categories of Partners, as well as different levels depending on how involved you want to be.
Here's a breakdown of the different Shopify Partner categories and levels!
Shopify partnership categories
Shopify offers a variety of ecommerce services, so it's only fitting that they also allow for different types of Shopify Partners. When you begin a partnership, you can choose to focus on one of four areas:
Shopify Marketers:

Shopify Marketers are Partners who bring marketing expertise to the table, helping Shopify users boost their Shopify marketing campaigns.

Shopify Developers:

Shopify Developers work to develop Shopify apps that will help users drive better audience engagement and revenue.

Shopify Designers:

Shopify Designers contribute their

web design

skills to users in need of better Shopify stores.

Shopify Affiliate Marketers:

Affiliate Marketers are in many ways a "catch-all" type of Partner, helping users handle whatever Shopify improvements they need. They also refer new clients to Shopify.
Whichever type of Partner you choose to be, you can provide help to Shopify users and earn commissions in return.
Shopify partnership levels
On top of the four Shopify partnership categories, there are also three different levels: Regular, Plus, and Fulfillment.
Shopify Partners (regular):

The standard Shopify Partners level comes with everything we've already talked about above, including access to the Shopify Partners Academy and the chance to earn a monthly commission.

Shopify Plus Partners:

Shopify Plus Partners is essentially an enhanced version of the standard partnership. It consists of Partners who have exhibited exceptional expertise and comes with more exclusive Academy materials and higher commissions.

Shopify Fulfillment Partners:

Fulfillment Partners have a different role from other partners, focusing on handling users' inventory tracking and shipping of products through Shopify.
It's best to start on the regular level, but you may have opportunities to change to one of the other two later.
How to become a Shopify Partner
Now that we've covered the basics, we can finally talk about how to become a Shopify Partner.
Thankfully, becoming a Shopify Partner is a relatively simple process. Just follow the step-by-step guide below to get started!
1. Visit the Shopify Partner Program homepage.
2. Submit your email address by entering it into the empty box and clicking "Join now."
3. Enter your name and choose a password to use for your account. Then click "Create account."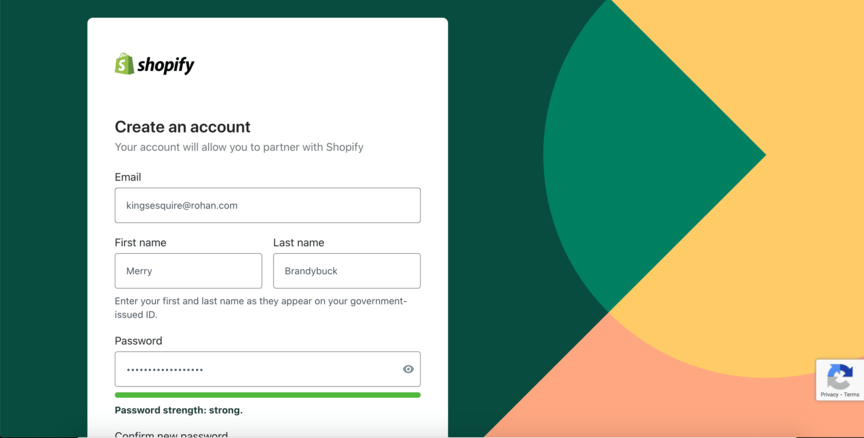 4. Wait for Shopify to send you a confirmation email. As soon as you receive it, open it and click "Confirm email."
5. On the page the email redirects you to, click "Shopify Partners" and then click "Create new partner account."
6. On the following page, fill out the form that asks for your basic business information. After completing the full form, click "View your dashboard."
7. On your dashboard, click "Get started" on the left-hand sidebar. Choose the Partner category you want to apply for and click "Apply now."
That's it! While you're waiting for your application to be approved, you can take advantage of the Shopify Partners Academy materials available to you. Then, once you're approved, you can start driving more revenue for your business!
Partner with
Ecommerce

masters!

Campaigns managed by WebFX have earned over
TRANSACTIONS IN THE LAST 5 YEARS
Read the Case Studies
WebFX can help you make the most of your Shopify partnership
Now that you know how to become a Shopify Partner, you can work through the application process and start boosting your incoming revenue. But you might still need some extra help with your ecommerce, and if so, WebFX has your back!
With over 775 client testimonials, we're the agency businesses trust to drive results for their online stores. With our ecommerce services, you'll get help driving your revenue to new heights.
To get started with us, just call 888-601-5359 or contact us online today!
The post Your Guide to How to Become a Shopify Partner appeared first on WebFX Blog.