Here's a great article from WebFX Blog

Whether you're a small-to-midsized business (SMB) or established enterprise, you want to make the most of your online marketing strategy. That isn't always easy when you're leading your marketing efforts in-house, though. These ten digital marketing solutions, however, can start making your life easier.
Learn more about these industry-favorite Internet marketing solutions now! Or, if you're looking for professional help with your online marketing, contact WebFX, one of the industry's best digital marketing agencies for SMBs.
For immediate assistance, give us a ring at 888-601-5359!
1.     Google Analytics
Google Analytics is a must-have tool for online marketing. It provides your business with tremendous insight into your website's performance, giving your team a peek into the behavior of your audience and the features of your site that work.
Plus, Google Analytics is free to use!
This digital marketing solution also features tons of customization options. You can create segments, for example, to narrow your view to the actions and behavior of your target market. Users can even create dashboards to highlight the data that matters to your business and digital marketing strategy.
If your online marketing strategy includes Google Ads, you can also link your advertising data to Google Analytics. This feature makes it easy for your team to review your campaign performance and site data. Plus, you can create custom audiences in Google Analytics for remarketing campaigns in Google Ads.
A few other Internet marketing solutions that you can access from Google Analytics include:
Data Studio: Build customized reports and reporting dashboards for your business.
Optimize: Test different page designs to find the best one for your site.
Surveys: Get feedback from the users that matter with custom surveys.
With Google Analytics, your company receives a powerful, all-in-one tool.
2.     Google Search Console
Google Search Console is another essential (and free) digital marketing solution. If you haven't created a Google Search Console account for your business, you need to because this tool will revolutionize your online marketing strategy.
With Google Search Console, your company can access valuable data about your website, content, and search engine optimization (SEO) efforts. Plus, you can receive alerts about problems with your site, like when a critical page disappears from your website or a page isn't mobile-friendly.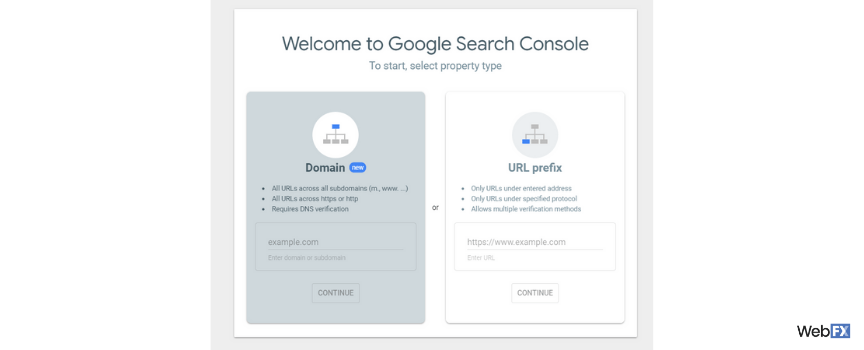 Your business can also use Google Search Console to double-check that Google can crawl and index your site, which is critical for SEO. Even better, you can submit URLs for Google to index, which is useful when you update a key page on your website.
Additional features that make Google Search Console a top digital marketing solution include:
Links: See which sites link to your website to spot link building opportunities for your business.
Traffic data: Discover how often your site appears in search results and more.
Reports: Generate performance reports fast to assess the health of your site's SEO.
If you're ready to get started with Google Search Console, browse their setup guide now!
3.     Ahrefs
Ahrefs is a trusted digital marketing solution and a great partner to Google Analytics and Google Search Console. With Ahrefs, your business can get up-to-the-minute information on not only your site's performance but also your competitor's.
Unlike Google Analytics and Google Search Console, however, Ahrefs requires a monthly subscription. You can start a seven-day trial for $7, which allows your company to try Ahrefs and see if it's useful for your team.
For many businesses, Ahrefs is worth the monthly investment.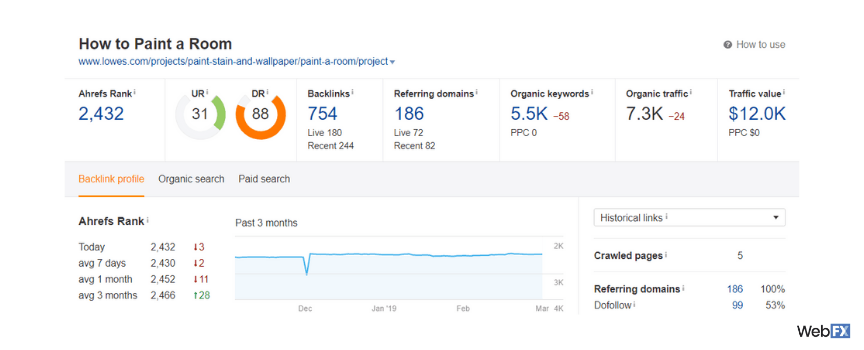 With Ahrefs, for example, your team can track which keywords your content (and even your competitors') ranks for in search results. Plus, you can compare your site to others to discover content gaps, which streamlines your content marketing strategy.
Like Google Search Console, you can also receive critical alerts about your site. If you earn or lose a link, for instance, Ahrefs can notify your team. The program can also provide updates on new keyword rankings and mentions of your business on the web.
If you're looking to take your SEO to the next level, Ahrefs is a must. That's why so many professionals in the digital marketing field recommend Ahrefs. It provides a massive amount of up-to-date data that can improve the competitiveness of your strategy fast.
4.     FAQ Fox
FAQ Fox is a free digital marketing solution for improving your content marketing strategy. Whether you're struggling to come up with content ideas or looking for a new way to get insight on your audience FAQ Fox can help.
If you want to try FAQ Fox, follow these steps:
Do some keyword research
Compile a list of some competitor sites
Enter your keywords, plus competitor site URLs
It's as simple as that to use FAQ Fox. If you want, you can also select some site types for FAQ Fox to search, like cooking, finance, or health sites. Your industry selection then generates a list of helpful websites for FAQ Fox to analyze.
While optional, this step can help your business get the most from FAQ Fox.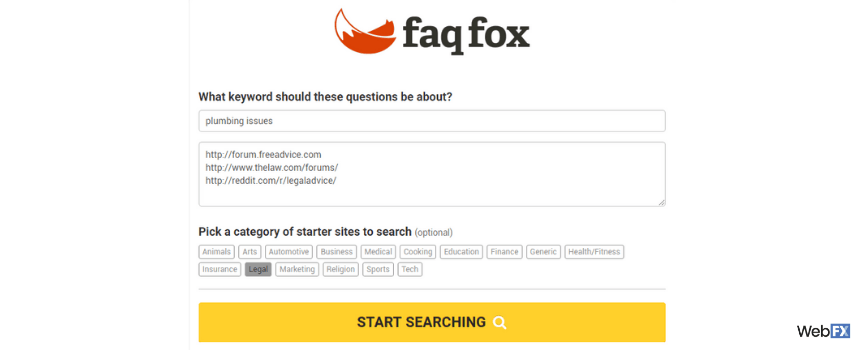 Based on your findings, your team can write compelling blog posts, thought-provoking articles, and helpful online guides that provide your target audience with the information they need. These content pieces can also help you build brand awareness, which can result in valuable leads later.
5.     Buffer
Buffer is a powerful digital marketing solution for social media. With Buffer, your business can streamline content sharing on Facebook, Twitter, LinkedIn, Instagram, and Pinterest by creating and scheduling posts in advance. You can even track the performance of your posts in Buffer.
Companies that use Buffer, like WebFX, save around 40 hours per month with this powerful tool.
If your company likes the sound of Buffer, you can use the free version of the program. Depending on your social media marketing strategy, as well as your need for social analytics, you may want to invest in the paid version of Buffer, which includes several pricing tiers and packages.
For example, an enterprise-level business may purchase the "Large Business" package while a small company may choose the "Small Business." Your choice depends on a few factors, as higher pricing tiers allow your team to schedule more posts, access more data, and more.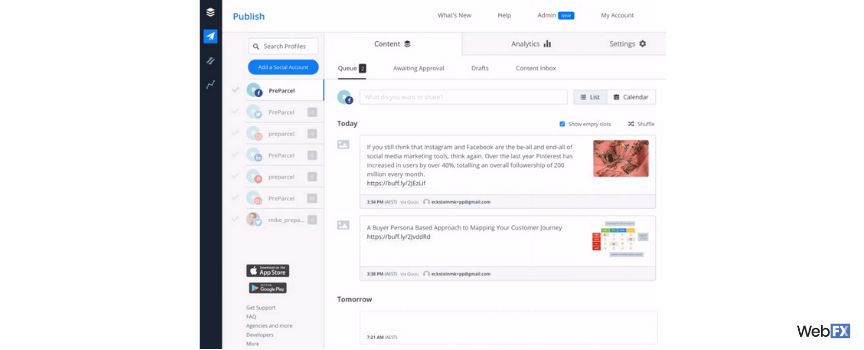 In addition to creating, scheduling, and publishing your social media posts via Buffer, your team can also respond to comments and questions on posts through the platform. This feature eliminates the time-consuming process of logging into each social media platform to check and respond to user comments.
Even better, your team can use emojis and GIFs in your responses to add some personalization, embrace your branding, and make a lasting positive impression on users. You can even sign your answers with your name automatically.
If your company uses Slack, a collaboration tool, you can integrate Buffer with your Slack account. When you add Buffer to Slack, your team can expedite support requests, as well as comments from Facebook and Instagram, to streamline your workday.
It's these features that make Buffer the go-to Internet marketing solution for social media specialists.
6.     Stock Up
Stock Up is a go-to digital marketing solution for stock photos. Whether you're looking for the perfect image for your website's homepage or your latest blog post, you can use Stock Up to find what you need to capture the attention of site visitors.
The site features more than 25,000 free stock photos and offers a fast search feature that saves your team time. It's worth mentioning that Stock Up creates its database of photos by compiling them from other sites, so when you go to download an image, Stock Up will take you to a separate website.
In the example below, for instance, the free photo comes from Burst.

If you decide to download this photo, Stock Up redirects you to Burst, which allows you to download a high-resolution version of the image for free. It's important to mention this feature because it can seem confusing to some users.
Either way, your business receives free, high-quality stock photos.
In addition to Stock Up, a few other favorite Internet marketing solutions for stock photos include:
For the best results and variety, use several different stock photo sites. They can help your business discover brand-new images, plus keep your content fresh. If you like, your team can even shoot a few photos in-house to show-off your company and culture.
7.     Pixlr
Pixlr is a free digital marketing solution for image editing. With Pixlr, your company can eliminate the costs of expensive photo editing software without giving up the photo editing tools you need to create top-notch content for your site, blog, and social media.
Even better, Pixlr is a web-based photo editor. That means your team doesn't have to install any software on their computers or laptops to use Pixlr. They don't have to worry about downloading and waiting for updates to finish, either.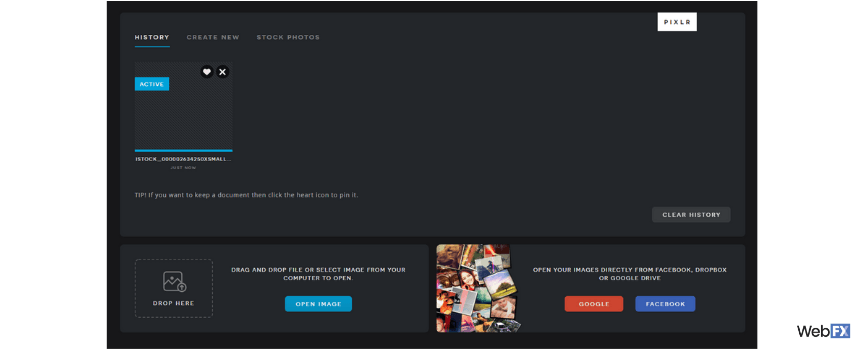 Instead, they can upload their photos and start working without delay.
If your team needs to work on-the-go, they can also download Pixlr's mobile app for iOS and Android devices. The app makes it easy for your company to modify and edit photos quickly, without the use of a desktop or laptop.
8.     Squoosh
Squoosh is another free digital marketing solution for your online marketing strategy. With this tool, your team can compress images for the web, which maximizes the speed of your site. A faster site offers a better user experience, plus sends positive SEO signals to search engines like Google.
Like Pixlr, Squoosh is a web-based tool. You don't have to download or install any software. Instead, you can open your web browser, head to Squoosh, and start compressing the latest images for your homepage, blog, or guide.
With Squoosh, your team can access an impressive list of compression features, including:
Downloading your image in a different file type, like JPEG to PNG
Choosing the quality of your compressed images
Resizing your image
Reducing your image's color palette to decrease its size
Rotating your image
Squoosh also allows you to preview your expected image size so that you can change your compression settings in real-time. Even better, you can see what your compressed image will look like, which can help your team keep an even balance between image size and image quality.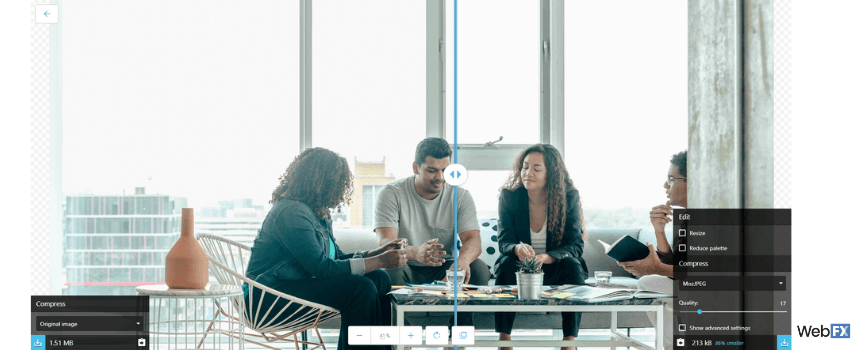 While you can only compress one image at a time with Squoosh, it's an excellent tool for businesses that need a free Internet marketing solution for image compression. Plus, it compresses images fast, which makes the most of your team's time.
A few alternatives to Squoosh include:
Experiment with these tools to see which one your team likes best.
9.     MarketingCloudFX
MarketingCloudFX is a paid digital marketing solution that provides your business with in-depth insight into the performance of your online marketing strategies. While only available to clients of WebFX, a full-service Internet marketing agency, it's an impressive tool worth sharing.
That's because MarketingCloudFX is one of the most powerful marketing automation software suites in the industry. IBM Watson, one of the most sophisticated artificial intelligence and machine learning applications, powers MarketingCloudFX.
With IBM Watson, MarketingCloudFX can provide your business with insight into:
Offline leads produced from your website
Phone calls placed by users visiting your site
Revenue generated by your website
And more
MarketingCloudFX also makes it possible for your company to get industry-specific insights into your strategies, like content marketing. With billions of data points, MarketingCloudFX can tell your business which topics offer the most value, based on industry data.
You can even get accurate numbers when it comes to search traffic earned by competitors.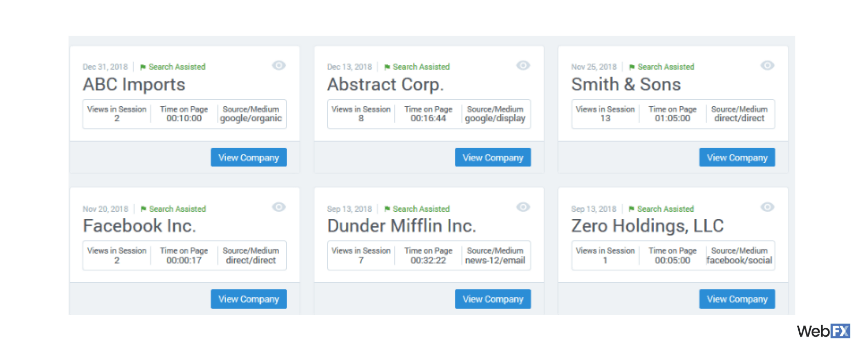 Even better, you can integrate MarketingCloudFX with several platforms, including:
Salesforce
Marketo
Shopify
Amazon Seller Central
And more
You can also access MarketingCloudFX via a web browser, like Google Chrome, or mobile app.
It's an immensely powerful software, and while only available for WebFX clients, it's worth considering. With WebFX, you not only receive a competitive, data-driven strategy but also access to some of the industry's most advanced marketing software.
That's why WebFX has generated more than $1.5 billion in revenue for its clients in the past five years.
10. Screaming Frog
Screaming Frog is an excellent digital marketing solution for companies looking to take a deep-dive into their website and its technical SEO. With Screaming Frog, your business can crawl your site at lightning speed to discover site errors, like 404s.
You can also use Screaming Frog to take an in-depth look at pages on your site. For example, with this Internet marketing solution, you can see how many internal and external links go to a specific page on your website.
Like Buffer, you can access a free or paid version of Screaming Frog. With the paid version, your business can crawl an unlimited number of URLs. In comparison, the free version limits your crawls to 500 URLs. The paid version of Screaming Frog can also integrate with Google Analytics and Google Search Console.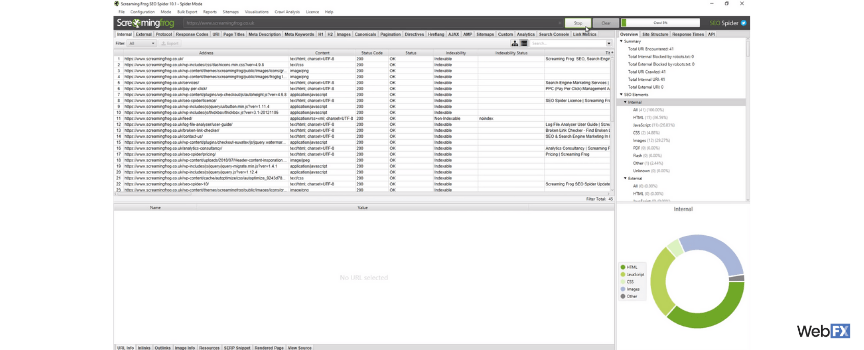 Try Screaming Frog and see how your team likes it before considering the paid version. Depending on the size of your site, as well as what you want to do with Screaming Frog, the free version may offer everything your business needs.
If you decide to give Screaming Frog a try, check out the company's user guide, FAQ, and support section on their website. It features dozens of helpful, easy-to-understand resources so that your team can make the most of the platform.
As a quick note, Screaming Frog is a downloadable software application for Windows, Mac, and Ubuntu. Unlike Pixlr or Squoosh, for example, the Screaming Frog program isn't accessible via your Internet browser. You need a desktop or laptop to use Screaming Frog.
3 bonus tips for digital marketing success
If you want to succeed in online marketing, you need more than a suite of powerful digital marketing solutions. You also need a competitive and original strategy that attracts, converts, and keep your target audience.
Improve your strategy with these three tips:
1.      AUDIT YOUR DIGITAL MARKETING STRATEGIES
No matter how much experience or history your company has with digital marketing, it's critical to audit your strategies on a routine basis. If you don't, your business can miss valuable opportunities for improving your approach to online marketing.
With your team, create a routine schedule of auditing your strategies. Depending on the plan, you may assess your approaches on a yearly, quarterly, or monthly basis. For the best results, don't wait more than a year to evaluate your performance.
If you don't have the time or resources to audit your strategies, you can always partner with a dedicated digital marketing agency. They can analyze your performance and compile a report with actionable recommendations. In some cases, the agency can implement these changes for you.
2.      MAKE YOUR STRATEGY ACCESSIBLE TO EVERY TEAM MEMBER
Depending on your business, you may work with a variety of team members. Even if you work with a small team, it's essential for your department to maximize information-sharing. You want everyone to have access to critical documents, like style guides, brand guidelines, and more.
If you use cloud-based programs, like Google Documents or Google Sheets, you can share company documents with ease. This approach streamlines information-sharing and makes it easy for everyone on your team to know what you're working towards with your digital marketing strategy.
3.      KNOW WHAT YOUR TARGET AUDIENCE WANTS AHEAD OF TIME
With online marketing, it's essential for your business to understand and anticipate the needs of your audience before they do. While challenging and time-consuming, this tip can have a tremendous impact on your sales, lead generation, and brand awareness efforts.
You can get a head-start on predicting your audience's wants and expectations with customer journey mapping. A customer journey map provides your team with a point-of-reference when it comes to the paths taken by your target audience.
Use your company's map to predict the next step of your target audience, like for users that sign-up for your email newsletter or follow your company on social media. Then, you can create the kind of content or provide the direction they need to move them towards conversion.
Looking for professional digital marketing solutions?
If you're struggling to manage your web marketing in-house, WebFX can provide a complete digital marketing solution. As a full-service Internet marketing agency, we offer all the services and tools your business needs to succeed online.
Our most popular services include:
With more than $1.5 billion in revenue (and more than 4.6 million leads) generated for our clients in the past five years, WebFX offers an unparalleled client experience and unmatched results. Discover why our client recommendation score is 488 percent higher than the industry average by contacting us today.
Contact us online or chat one-on-one by calling us at 888-601-5359!
The post 7+ Digital Marketing Solutions for Growing Your Business appeared first on WebFX Blog.