Here's a great article from WebFX Blog

In digital marketing, data is king.
It provides your business with actionable insight into your website, helping you see how users interact with your site, as well as how your competitors approach online marketing. To get the most from your website analytics, however, you need the best web tracking tools.
Get ready to learn (and earn) more from your site's analytics with this breakdown of the best website analytics tools. From free to paid, this post covers the most useful platforms for every company size, making it the perfect resource for you and your team.
Keep reading to get started!
1.     Google Analytics
Google Analytics is a must-mention website analytics tool.
With Google Analytics, your company receives tremendous insight into the performance of your site, behavior of your website visitors, and even demographic features of your users.
The web tracking tool also integrates with the following Google Marketing Platform programs:
Google Ads
Google Data Studio
Google Optimize
Google Search Console
And more
While most businesses can take full advantage of Google Analytics, some require a more robust version of the platform: Google Analytics 360. This paid version of Google Analytics 360 includes advanced analysis, data-driven attribution, and more.
Price: Free, with paid options for the Google Analytics 360 Suite
2.     Ahrefs
A paid tool for monitoring website analytics, Ahrefs receives plenty of praise from experts in the industry. The web platform features a suite of tools that help your business audit, develop, and improve your search engine optimization (SEO) strategy.
Using Ahrefs, your team can:
Discover valuable keywords in your industry and market
Check your website for common SEO issues
Audit and monitor your backlink profile
Analyze competitor rankings
Explore content gaps between you and competitors
And more
If your company wants to try before you buy, Ahrefs offers a seven-day trial for $7.
Price: $99 to $999 per month, with annual payment options available
3.     SEMrush
With SEMrush, your business can use your website analytics to create powerful, compelling ads and user-focused content that drives shares on social media and across the web. Like other website metric tools, SEMrush features a paid monthly subscription.
In SEMrush, your team can access a suite of tools to tackle a variety of tasks, including:
Researching competitor ad campaigns, ad budgets, and more
Compiling valuable keywords for content and ad initiatives
Checking competitor website traffic and marketing strategies
Tracking your performance across social media platforms
Monitoring your position for high-value keywords
Auditing your backlink profile
Generating and sharing custom website analytics reports
For many businesses, SEMrush provides tremendous value because of its 360-degree approach to online marketing. You can assess your pay-per-click (PPC), social media, content marketing, and SEO strategy in one place, as well as share that information with people throughout your company.
Price: $99.95 to $399.95 per month, with custom prices for enterprise-level solutions
4.     Matomo
More than 1.4 million websites, like NASA, use Matomo. The paid web tracking tool, previously known as Piwik, delivers an all-in-one website analytics solution that helps your business earn more from its website traffic.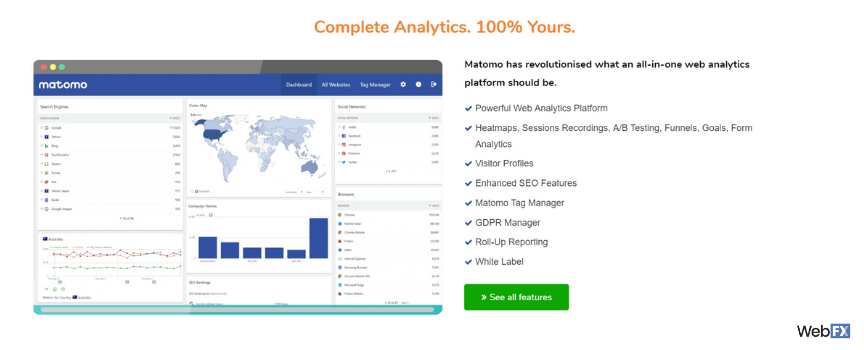 It's also compliant with GDPR, or the General Data Protection Regulation.
Unlike many of the best website analytics tools, Matomo offers an on-premise solution. With an on-premise solution, your business can store and manage all your website data in-house. This option, however, does require additional team member expertise.
No matter how you incorporate Matomo into your workplace, you can use the following features:
Visitor profiles
Heatmaps
Tag manager
A/B testing
Search engine reporting
And more
If you're curious about how Matomo would work for your business, start a free 30-day trial.
Price: $19 to $14,790 per month, with custom pricing for enterprise-level solutions
5.     Crazy Egg
You can also track and analyze your site analytics with Crazy Egg. Unlike some of the other website metric tools mentioned, Crazy Egg focuses on conversion rate optimization (CRO) and A/B testing, which can help your business create a better website that drives more traffic, leads, and revenue.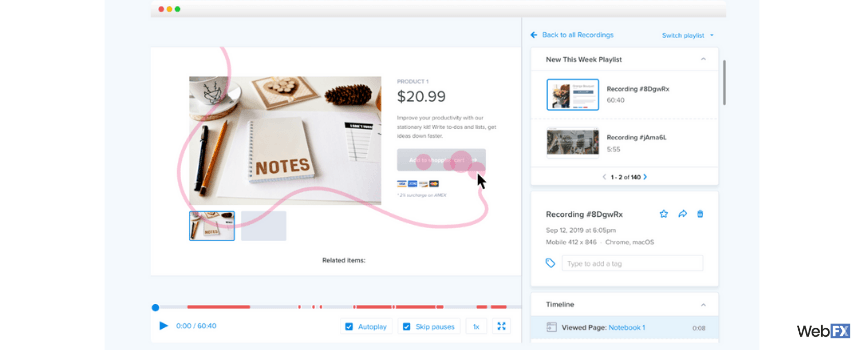 A few features that your team can take advantage of with Crazy Egg include:
Heatmaps
Visitor recordings
Visitor snapshots
Site editor tools
And more
If your company uses Shopify, Wix, Joomla, WordPress, or another similar platform, it's easy to integrate your site with Crazy Egg too. This feature saves your team time and helps you start your first CRO project fast.
Crazy Egg also includes a free 30-day trial.
Price: $24 to $249 per month, with custom plans and pricing for enterprises and agencies
6.     MarketingCloudFX
Companies can also evaluate their website analytics with MarketingCloudFX. A paid web tracking tool, MarketingCloudFX provides advanced insight into the offline and online performance of your site, as well as your digital marketing strategy.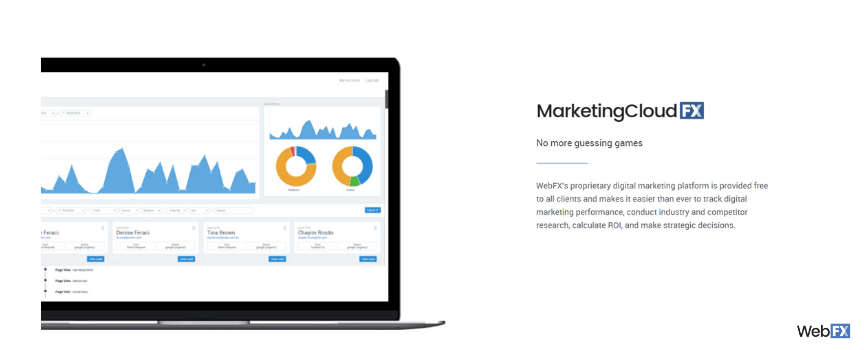 A few examples of what your team can do (and learn) with MarketingCloudFX include:
Review the actions of leads on your website
Monitor competitor visits and behavior on your site
Evaluate the monetary value of content and content topics
Personalize your site content to visitors
Track and transcribe phone calls from website visitors
Summarize your website and marketing strategy's return on investment (ROI)
IBM Watson, one of the industry's leading machine learning software programs, also powers MarketingCloudFX. For your business, this feature provides a unique advantage when it comes to evaluating your website analytics and taking action.
Price: Free to WebFX clients, with a $23,000 per year paid option for non-clients
7.     Kissmetrics
Web tracking tools like Kissmetrics not only help your business reach more potential clients but also retain your current customer base. More than 900 companies, like Rosetta Stone, use Kissmetrics to improve conversion rates, user engagement, and client retention.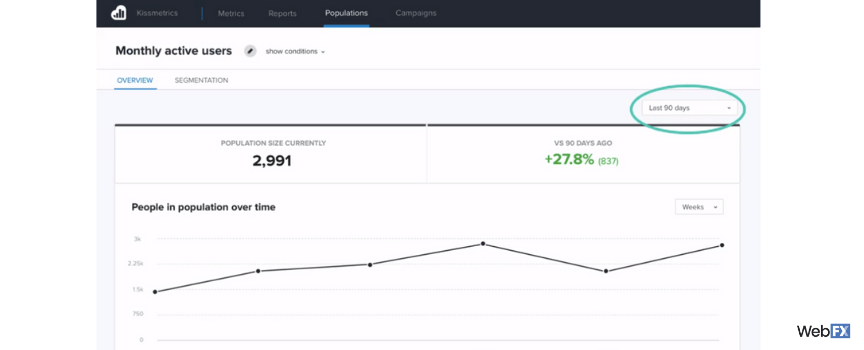 Your company can use Kissmetrics a few ways, including to:
Compile audiences for Facebook and Instagram ads
Automate email marketing campaigns
Define and track user segments
Monitor cross-device customer journeys
Like Crazy Egg, Kissmetrics also integrates with several different platforms, including Slack and Shopify.
Price: Customized pricing plans only
8.     Moz Pro
Companies can also access and analyze their website analytics with Moz Pro. With Moz Pro, your business can focus on improving your SEO strategy, which can result in increased rankings in organic search results and website traffic.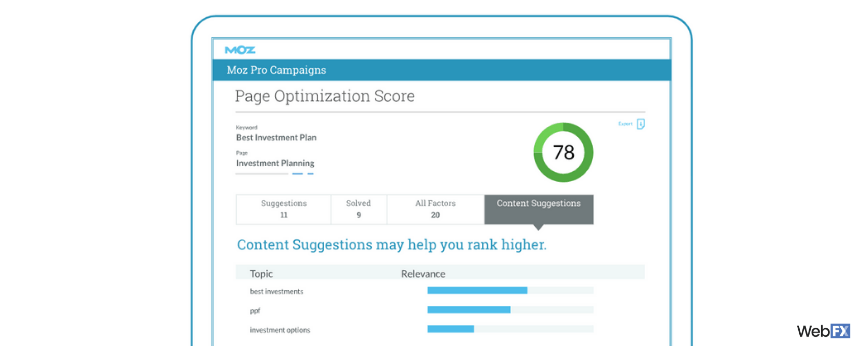 A few tools that come with Moz Pro include:
Keyword Explorer, for evaluating and compiling keyword lists
Rankings, for monitoring your site's performance in national and local search results
Site Crawl, for crawling your site for SEO issues
Page Optimization Score, for assessing your current on-page optimization
If you want to try Moz Pro, you can start a free 30-day trial.
Price: $99 to $999 per month
9.     Adobe Analytics
Adobe Analytics is another solution for monitoring your website metrics. While a paid web tracking tool, Adobe Analytics provides your team with actionable insights for improving your bottom line. Plus, Adobe Analytics brings data from across channels, like social media and search, into one location.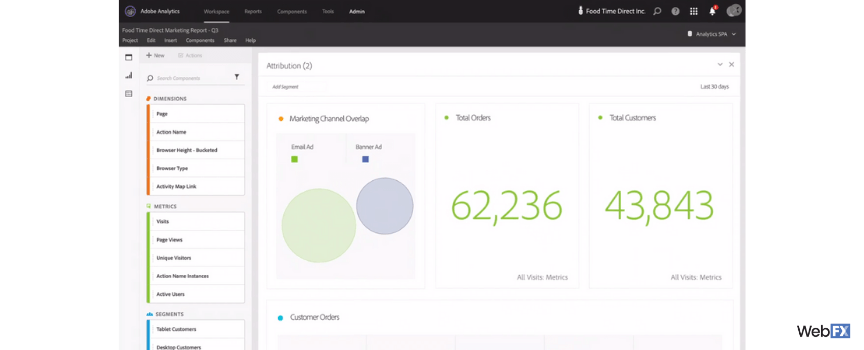 Businesses can use this website analytics tool for several tasks, including:
Creating custom metrics
Spotting and reacting to trends
Accessing real-time data
Evaluating customer journey
Integrating marketing and advertising strategies
While Adobe Analytics doesn't offer a free trial, your company can sign up for a free demo.
Price: Customized pricing plans only
10. Clicky
Clicky is a frequently-mentioned website metrics tool. A free option, Clicky provides detailed insight into your website's analytics performance. Plus, it monitors your site in real-time, offering your team instant access to the latest numbers.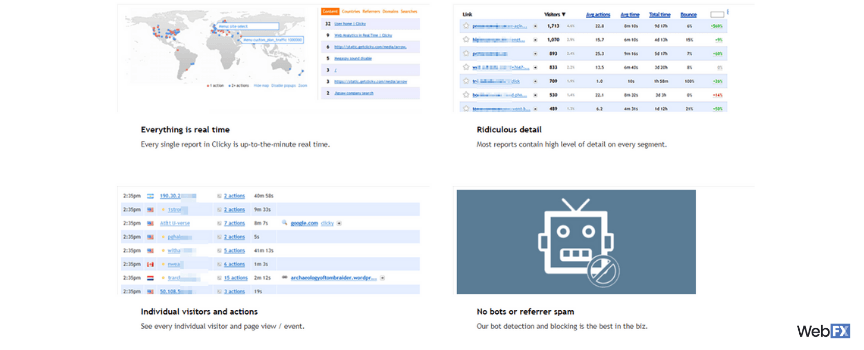 A few of the tools available in Clicky include:
Individual visitor and action tracking
Heatmaps
Spam filtering
Uptime monitoring
Campaign tracking
A/B testing
Like a few of the other website tracking tools mentioned, Clicky offers a free trial of its paid version.
Price: Free to $19.99 per month, with custom pricing available
Improve your site's online performance with WebFX
Your website analytics play a critical role in your online performance. If you skip monitoring your site analytics, you leave your company with zero insight when it comes to how search engines see your site or how users interact with it.
That's why it's essential to invest in the best website analytics tools for your business. Whether your company uses a free tool, like Google Analytics, or a paid one, like MarketingCloudFX, a website tracking tool can help your organization build a competitive online strategy.
Learn more about how a tool like MarketingCloudFX can help your business by contacting us online!
The post Website Analytics & You: The 10 Best Website Analytics Tools appeared first on WebFX Blog.