Here's a great article from The Crazy Programmer

Cloud technology is the new normal for tech-savvy people who consider themselves Digital Nomads. With the rise in a shift towards cloud technology, especially IT people, have changed the way they work. Besides, it has made it easier for professionals and even ordinary people to access the data on any device from anywhere.
Shells is one such platform for hosting a Virtual Desktop/ Computer on the cloud.
Virtual desktops are preinstalled copies of operating systems on the cloud. It helps in isolating the desktop environment from the existing system that is accessible on any device.
In layman's terms, a virtual desktop is a desktop embedded on a remote cloud server that users can use on any device, including smartphones, tablets, gaming consoles, over the internet.
Introduction to Shells
Shells is a web-based platform that offers a robust virtual desktop environment via a cloud. Users can build their Virtual Cloud Linux Desktop using Shells services.
Additionally, users can run various Linux-based distributions, such as KDE Neon, Ubuntu, Kubuntu, Debian, Linux Mint, and Manjaro, on these cloud computers. This can be achieved for iPad, iPhone, Android smartphone, handheld Android, PlayStation, Smart TV, Xbox, or even an old computer.
It is a virtual reality with a multi-platform that allows you to transform your Playstation, tablet, smartphone, Xbox, or Oculus into a device. You can transform the Shells virtual world into a powerful, cloud-driven workspace with just one click without departing your browser.
The best part!
All of the high-end processing tasks and heavy lifting operating system work is carried out on the cloud and not the existing system. So, if your device is old, it doesn't have to strain itself. Moreover, you don't have to push yourself as every task you perform will give you a much better and compelling experience.
Features
Remote Access
Shells make it easier for developers, educators, students, and other professionals to download, store, access, and edit files on any device. You can start a project on one device while you're traveling or at any other place and continue the same on another machine with your ease.
Cross-functionality of Apps
With Shells, users are not restricted to a particular operating system or device. It allows accessing the desktop version of MS Excel on iPad and a PC-only game on your Android device. Users don't have to choose between devices (Android or iOS) and operating systems (Mac or Windows), as they get to benefit from both.
Cloud Security
Shells automatically back up users' data on the cloud with firewall security and end-to-end encryption, ensuring the data always stay safe and private. Besides, the data is stored in the cloud, so users don't have to stress if their device gets damaged. They can access their data from any other device.
Affordable and Conventional Upgrades
The platform offers multiple pricing and plan options to upgrade the performance, memory, speed, and other factors with just a button click on the go. You don't have to waste time waiting for data transfers, and the best part, you can upgrade your old device into a powerful Shells computer instead of diminishing it in the trash.
Distinct Features
Simple and convenient
Flexible
Cost-effective
Futureproof
Interactive user-interface
Intel-powered desktop computers
Run multiple apps on the browser
Shells is great for whom?
Shells platform is valuable and convenient for everyone seeking to have their own virtual cloud computer. However, the platform has proved to be the most valuable on-cloud service for specific domains and people. Here are a few:
Students
Students from any field can use the Shells platform for high-end PC performance on their tablets or smartphones. Moreover, they are privileged to get top-notch technology at affordable plans by upgrading an old device into a powerful PC.
Professional Workers
Corporate working professionals, freelancers, and other skilled workers can use Shells to simplify and streamline their work. Features such as Windows access from any device, snapshots, and download options can help workers carry out their tasks even outdoors.
Developers
Shells provide developers and coders a platform to write code on any device, anytime, and in any language. Besides, it is a window of opportunity for developers as they get great functionalities, including multiple operating systems, test and deploy on one device, and a library of IDE's to choose from.
Artists and Content Creators
Shells is also an excellent tool for artists, musicians, and content creators to outperform their artistry tasks with high-end functionalities and services available. They can create music, videos, and other forms of content from any device with professional-grade software. Moreover, it is a fully digital audio studio that lets artists compose in the cloud with industry-standard audio production apps like FL Studio, Mixx, and Audacity.
Shells Pricing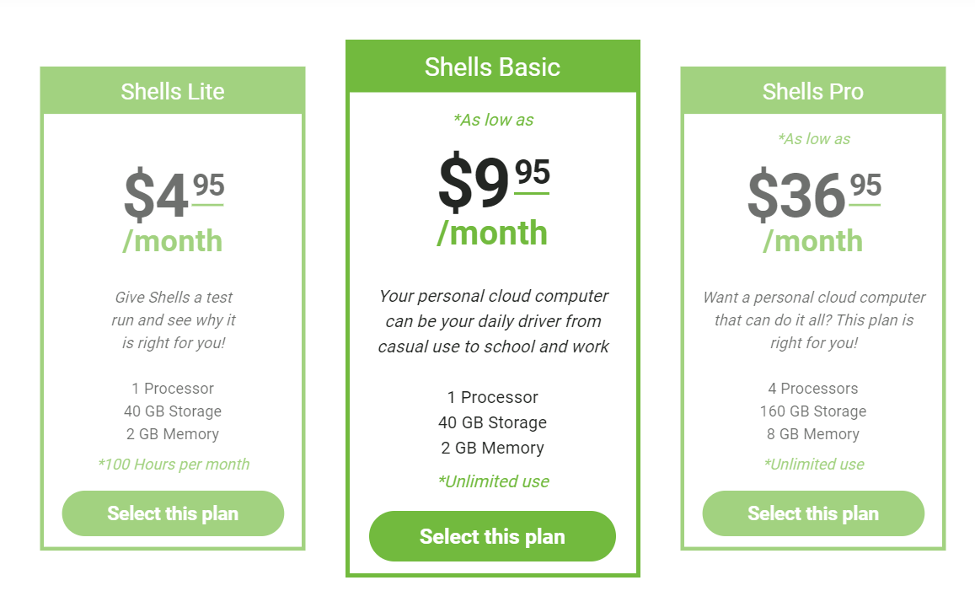 Shells comes as low as $4.95 per month and do not offer any free trial or plan. To get started using Shells, one has to spend the minimum amount to take benefits. Nevertheless, if you don't like it, you can cancel the subscription within 7 days to get a full refund.
The platform offers three pricing plans:
Shells Lite: $4.95 per month for 1 processor, 40 GB storage, 2 GB memory, 100 hours
Shells Basic: $9.95 per month for 1 processor, 40 GB storage, 2 GB memory, unlimited
Shells Lite: $36.95 per month for 4 processor, 160 GB storage, 8 GB memory, unlimited
How to get started with Shells?
You need to sign up, create your account and choose a package to get started with Shells. Once your account is created, you can build your virtual computer, download applications, programs and migrate your work assignments into your personal cloud workplace.
After completing the setup part, now you can log in to Shells servers from any device, including mobile, tablet, or even a TV.
Shells provide users with a Desktop as a Service solution that offers both computing power and resources to install and archive the data in Linux distributions and applications. Shells are server machines built on Intel that are easily accessible at any moment.
In addition, Shells has some additional advantages that make this service much more fascinating, such as auto-save, ransomware tolerance, daily installation backup, and data recovery at every point during the last seven days.
Cheers to Shells!
The post Shells Review – Best Personal Cloud Computer appeared first on The Crazy Programmer.