Here's a great article from WebFX Blog

As a business owner, reaching as many potential customers as possible is paramount to your success — and Facebook marketing is a fantastic option to help you do so.
With more than 2 billion monthly users, Facebook is a social media powerhouse that can help you reach new customers — especially when you create a Facebook business page.
In this post, we'll talk about how to make a Facebook business page, and most importantly, how to make your Facebook business page successful.
Want someone to do the work for you? WebFX is a top social media marketing agency that can help you create business accounts on a variety of social platforms. Contact us online to learn more or give us a call at 888-601-5359.
74% of people use social media when making a purchasing decision
Make their decision easy with a stellar social media presence. See how your brand can make it happen by requesting a no-obligation proposal today.
Enter your email below:
One of our experts will analyze your campaign and provide a proposal
How to make a Facebook business page
Creating a Facebook business page for your company is simple — and it's a small step that can have a huge impact on the success of your business.
Let's get started!
Step 1: Log into your personal account
Before you can create a Facebook business page, you must log into your personal Facebook account. The two will not be linked in any way from a user's perspective.
If you don't already have a personal Facebook account, signing up for one is easy and free.
Step 2: Create your business page
After you're logged in to your personal Facebook account, it's time to create your business page. You can do so by visiting facebook.com/pages/create.
Here, you'll need to specify your page name, which should be the name of your business, and choose a category.
The categories will auto-populate as you start to type, and you can choose up to three of them.
After naming your page and selecting your categories, fill out your description, which should be a few high-level statements about what your business does and who you serve.
The language you use in the description field should match your unique brand tone and style and should help users get a feel for who you are as a business.
Step 3: Add images
After creating your initial business page, it's time to talk about one of the most important things when it comes to how to make a Facebook business page successful — the images.
When you come across an account with no profile picture and no cover photo on Facebook, your trust is likely low. Similarly, if you see a page with low-quality images in either area, you won't trust them as much as you would a big name with a crystal-clear logo and cover photo.
That said, choosing the images for your page is a crucial step in creating a successful Facebook business page.
Here are some tips for choosing the best photos for your profile image and your cover photo.
Choosing a profile photo:
Opt for your business logo to make your page easily recognizable and to build brand awareness
Make sure your photo is high-quality
Size your photo correctly to ensure that its not stretched or skewed (ideally 170×170 pixels)
Choosing a cover photo:
Choose a photo that relates to your business and further builds brand awareness
Cover photo should feature your brand colors
If you use text, be sure that it's not obscured by your profile picture
Make sure your photo is high-quality
Size your photo correctly to ensure that its not stretched or skewed (ideally 820 x 312 pixels)
After you've chosen your page's most important images, upload them and save your page.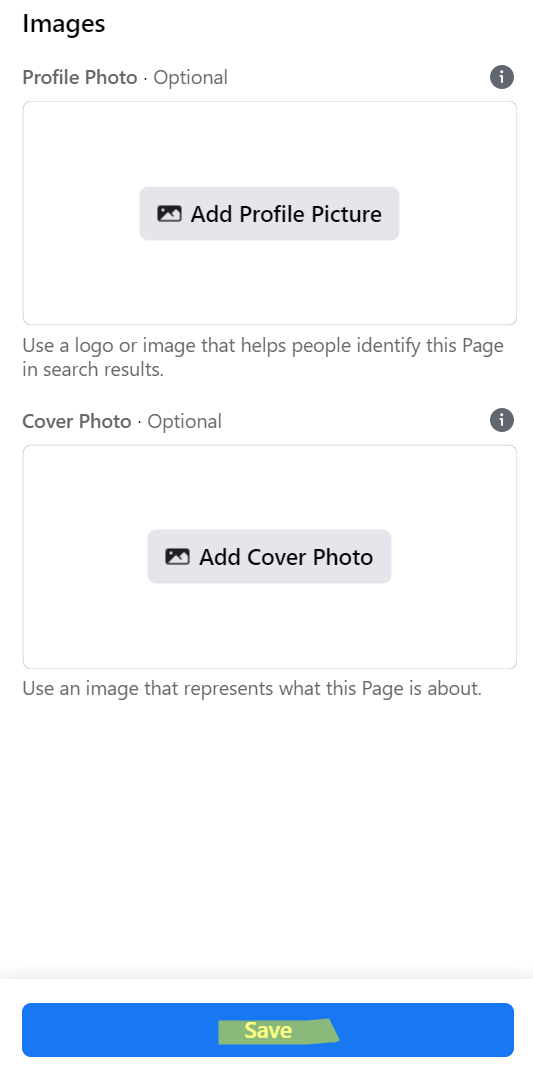 After you've finished setting up your Facebook business page, you can go back and add photo albums of your business, your products, your employees, and anything else you choose.
Step 4: Create a username
Creating your username will help users recognize you since it will show up in your Facebook URL. You'll have up to 50 characters to use, but you should keep it as simple as possible.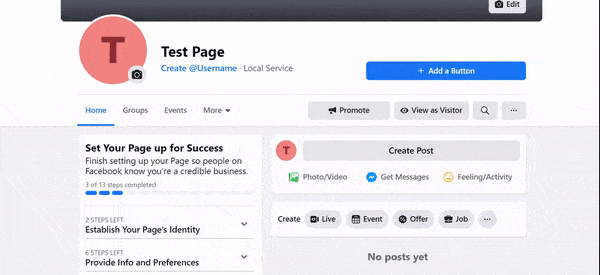 Consider making your username the name of your business. Choosing your business's name will help with brand consistency and awareness!
Step 5: Add crucial page info
The goal of your Facebook business page is to create a presence for your company on the popular social platform. But your presence will fall short if you don't fill out crucial page info like your contact information, location, and more.
Next, you'll want to visit the "Edit Page Info" tab on the left of your screen to add important business information to your page.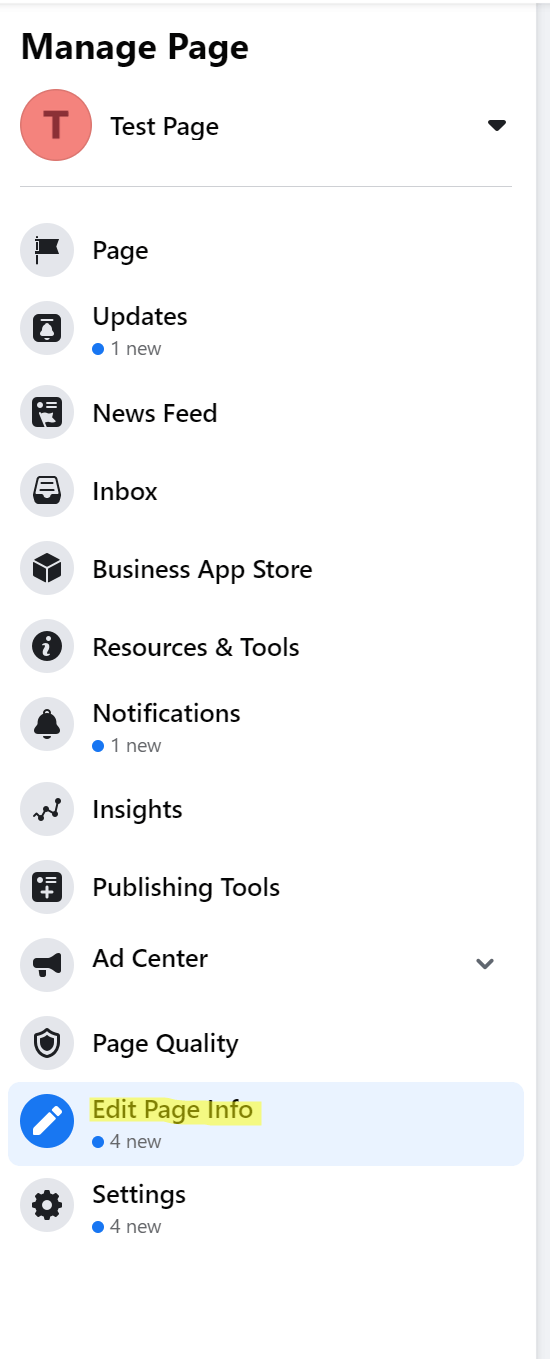 Fill in the following information:
Contact info
One of the most important pieces of info on your business page, your contact info tells users how they can reach you.
This section includes your phone number, email address, and website.
Location
Next, you'll add your business address and map location. These are especially important if you're a store that customers visit, like a restaurant or clothing boutique.
However, it is just as important if your business is merely an office space for your employees, like a real estate agency.
Showing that you have a brick-and-mortar location boosts customer trust — simply because it shows that you're a legitimate business with a place on the map.
You can also add additional location details if you'd like.
These details include info like:
If your business has a physical location that customers can visit
If your business travels to its customers
If your business sells goods and services online
The more information you choose to fill out, the better! This info will give your potential customers the most well-rounded view of your business and ensure that they don't have any questions.
You'll also have the option to select your service area — but this option is only necessary for businesses who travel to provide goods and services to customers.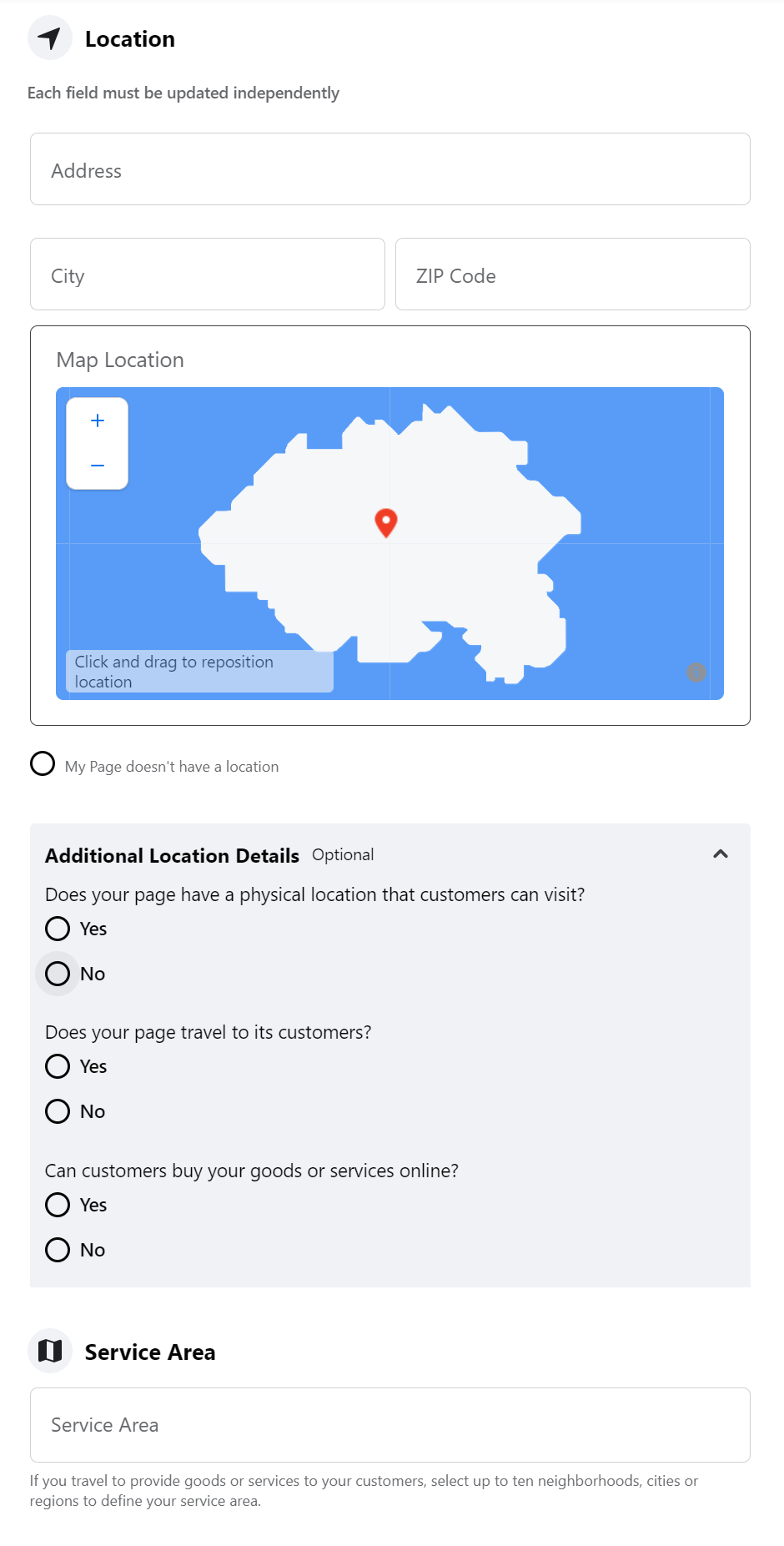 Hours and temporary service changes
Hours of operation and temporary service changes are a crucial piece to your Facebook business page puzzle. Without them, potential customers won't know when they can reach you or when they can visit, which means that you could miss out on hours of business.
The hours section offers you four options:
No hours available
Always open: Places like parks and beaches
Permanently closed: If your business has been closed permanently
Open on selected hours: Ability to input your own hours
As for temporary service changes, you'll have three options to choose from:
Open with service changes: Service model has changed
Temporarily closed
Operating as usual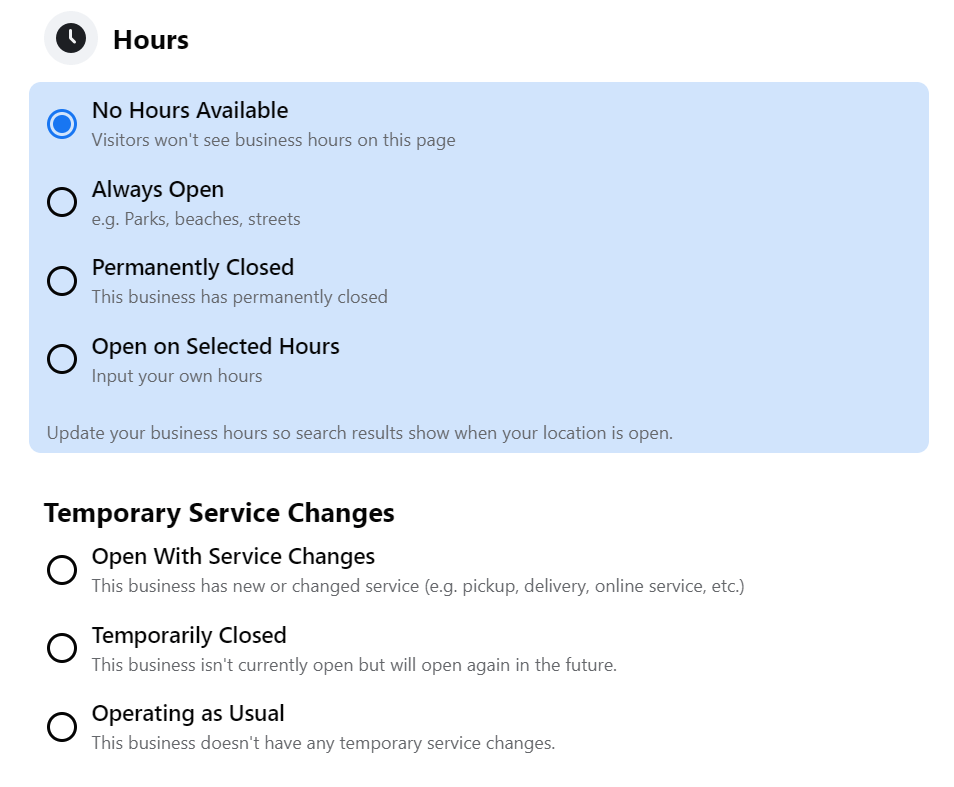 More
When learning how to make a Facebook business page successful, you'll likely hear that adding as much information as possible is the way to go — and it's true.
In the "more" section of your Facebook business page set up, you'll see places to input information about:
Your privacy policy
Legal identification numbers (Impressum)
Product information
Additional information
Although this section is optional, to reap the most benefits from your Facebook business page, you should share as much information as possible.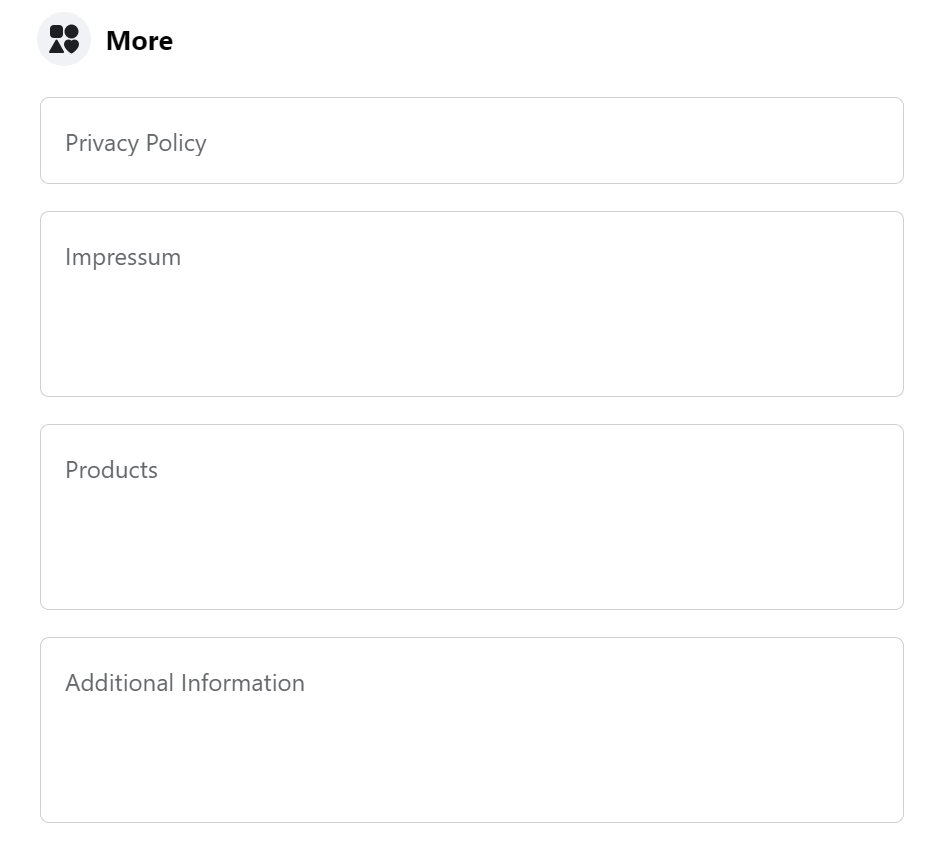 Wi-Fi
In this section, you'll have the opportunity to enter your Wi-Fi network information.

Price range
Next, you'll have the option to specify your product or service price range in relation to other businesses that have similar offerings.
Your options include:
Cheap
Moderate
Expensive
Splurge
Unspecified
Not applicable
Although it might feel strange to put a price tag on your products or services, it can help your customers determine if your business is the right option for them.
This field will also help you narrow down inquiries that are unlikely to become a lead.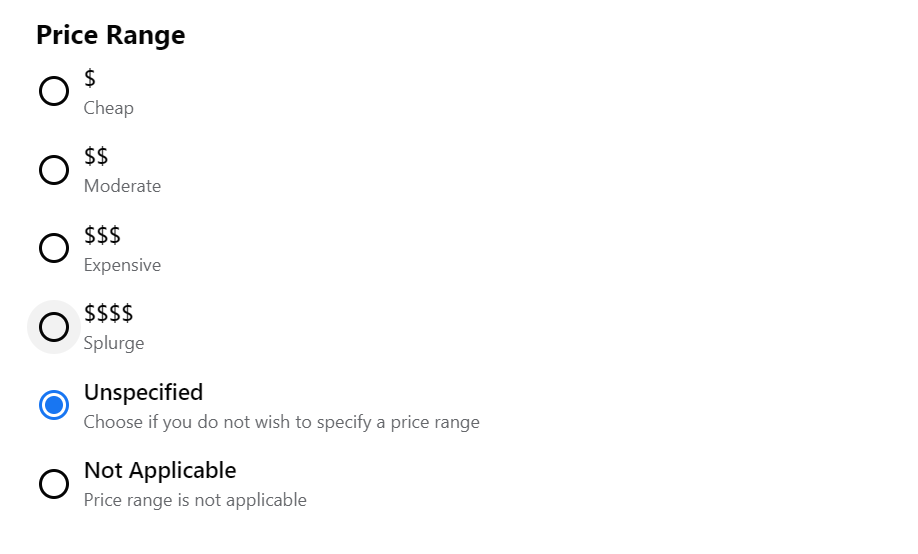 Other accounts
Last, but not least, you'll have the option to add your other social media accounts to your Facebook page. This part can be extremely beneficial to your business and can help cross-promote your platforms.
We suggest linking all the social profiles that you have!

Step 6: Invite friends to like your page
Now that you've learned how to make a Facebook business page, it's time to invite your friends to like it!
On your main page, you'll see an option to invite your friends to give your page a thumbs up. When they do so, it means that they will receive updates from your business on their feed whenever you post content.
This action lets your friends know that your business page exists and can expose other potential clients to your page when your friends like it.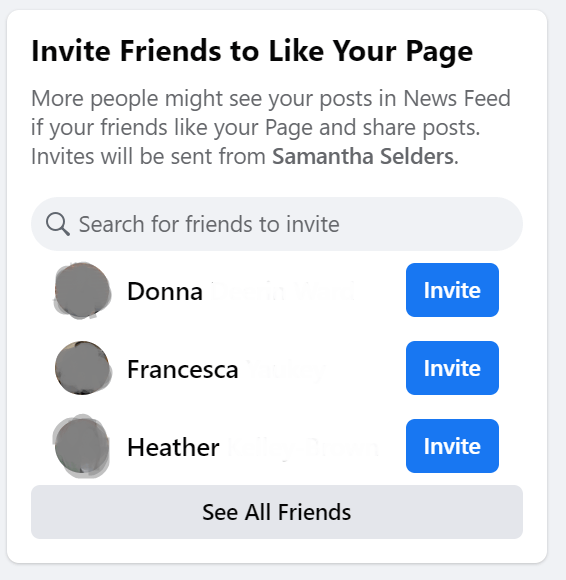 Step 7: Use free Facebook business tools to take action
When learning how to create a business page on Facebook, it's important to take note of the free tools that Facebook offers to businesses.
For example, you can:
Sell your products
Add appointment bookings
Showcase your menu
These built-in tools and shortcuts make it easy for potential customers to find exactly what they're looking for on your Facebook page.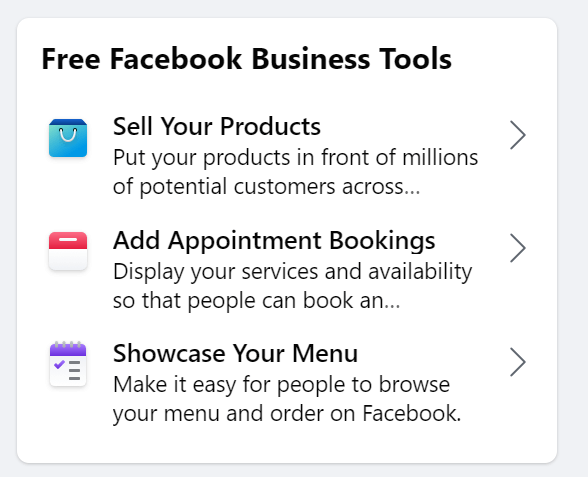 Step 8: Add a call-to-action button
Facebook allows you to add a button to your business page to encourage users to act.

This action could be a "call now" button, or a "visit our website" button — whatever you want to encourage users to do is fair game.
Step 9: Don't forget to check Facebook Insights
After your Facebook business page has been up and running for a month or so, don't forget to check back to see how your page is performing.
Facebook's baked-in analytics platform, Facebook Insights, offers a variety of beneficial metrics to help you understand how users interact on your page.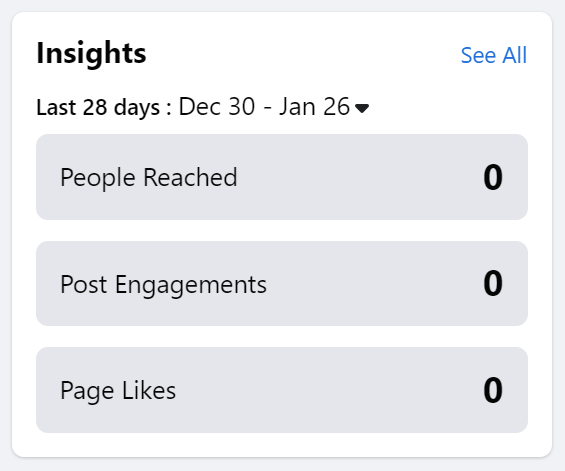 Keep in mind that the first month or so, your metrics will be skewed. That's because in comparison to the first day you created your page, metrics will likely all increase.
You should wait a few months before putting any real stock in your Facebook Insights reports.
Still wondering how to make a Facebook business page successfully?
If you're overwhelmed with the idea of creating a Facebook business page on your own, WebFX, a Facebook Marketing Partner, is here to help. With over a decade of industry experience, we can help you create a Facebook business page that enables you to reach more potential customers than ever before.
Contact us online for a free quote, or give us a call at 888-601-5359 to learn more about our social media marketing services!
The post How to Make a Facebook Business Page in a Jiffy [2021] appeared first on WebFX Blog.