Here's a great article from WebFX Blog

Facebook has over one billion users on its platform, and if you aren't using Facebook to market your business, you're missing a prime opportunity to reach more traffic and leads.
To make sure you don't miss a beat, we've created the ultimate Facebook checklist. This checklist will include a Facebook marketing checklist and a Facebook advertising checklist to ensure that you have all the info you need to create a stellar Facebook campaign.
P.S. If you want to get the latest tips and tricks for marketing, subscribe to Revenue Weekly and join 150,000 marketers to get the inside scoop on how to improve your marketing!
Facebook marketing checklist: How to get started with Facebook marketing
Want to launch an organic Facebook campaign? Follow this checklist for getting started!
[  ]  Create your Facebook profile
The first step on the Facebook marketing checklist is to create your Facebook business profile. If you already have a Facebook page, you can cross this off. If you don't, you can create a business page from your Facebook profile.
Go to your profile
Click Pages on the right-hand side
Click Create a New Page
Fill out the information
[  ] Add information to your profile
Once you have a business profile, you can start filling it out. You want to ensure that your profile is complete with the most important information to keep users in the know.
Here's an example from an ice cream shop in Allentown that filled out all the information for their business.
Here, you can see information like:
Contact information
Address
Website
Small biography
Hours of operation
This information is critical for your audience, so you want to ensure you fill out your entire profile.
[  ] Add a profile photo and cover photo
Next on our checklist for Facebook marketing is to add a profile photo and cover photo. These two elements are critical to helping you create a well-rounded profile.
[  ] Profile photo
Your profile photo is what your audience will see when they first find your page, as well as every time they see a post from your company. It's an integral part of building brand recognition, so you want to ensure that it's a photo reflective of your business.
Generally, the best photo to choose for your Facebook profile is your logo. That way, if someone stumbles across your page, they'll recognize your brand instantly based on the logo. Tasty uses their distinct black text and blue background logo as their profile photo.

[  ] Cover photo
Once you have your profile photo, you add a cover photo. With your cover photo, you have a little more wiggle room to make it unique. While you still want it to fit with and reflect your brand, there isn't one right photo to use as your cover photo.
For example, Apple has a cover photo that advertises one of its iPhones.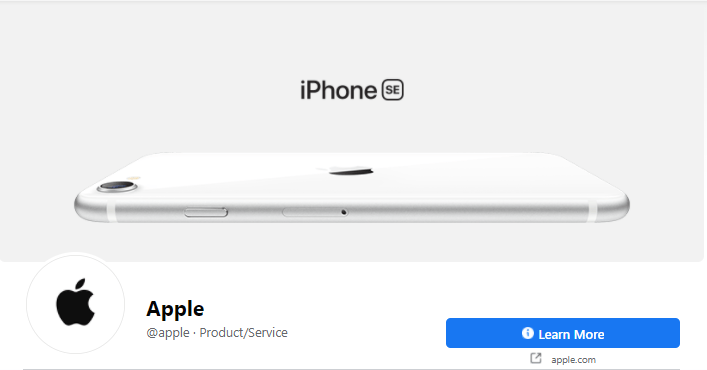 Aeropostale chose to feature people wearing their clothes as their cover photo.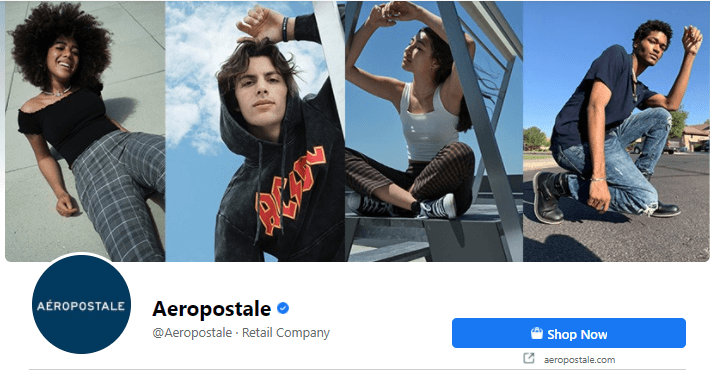 Target, on the other hand, chose a simple graphic that features their logo.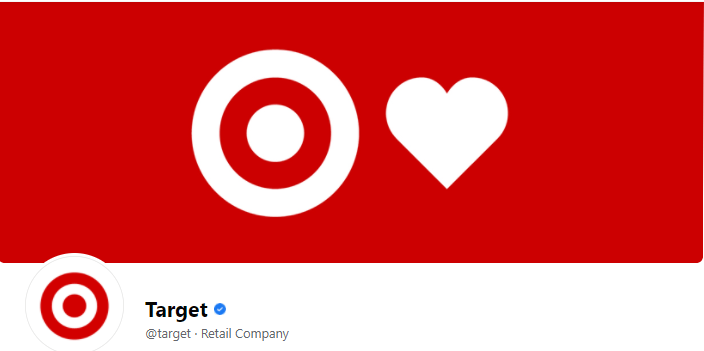 As long as the cover photo is on brand, you have some creative room to choose a unique cover photo for your business.
[  ] Post different types of content
Next on our checklist for Facebook marketing involves the content you post. Once you have your profile set up, you can start posting content for your audience, but you want to ensure that your content is optimized for engagement.
Creating engaging content means:
Creating videos on how your product works or giving a tour of your office
Sharing helpful blogs about industry-related information
Sharing high-quality photos of your products or someone using your products
To get the most from your Facebook marketing campaign, you should try different content formats as well.
Not everyone enjoys reading text posts or following links to your blog. People like consuming different types of content, so to be successful with your social strategy, you must deliver content in various formats.
You can post:
Text posts
Photos
Videos
Live videos
Links to content
GIFS
Experiment with these different content formats to figure out which ones your audience likes the most. It will help you deliver a Facebook marketing strategy that's more engaging for your audience.
[  ] Create a social media calendar
When you start posting on Facebook, you'll find that you create numerous posts each week to share with your audience. If you're using other social media platforms in addition to Facebook, it can quickly get hectic and cause you to lose track of your Facebook presence.
That's why creating a social media calendar is next on the Facebook marketing checklist.
If you already use a content marketing calendar, the social media calendar follows a similar process. You plan out your social media posts for the month so you know what you're posting and when you're posting it.
This step is critical on the checklist for Facebook marketing because it helps you see the full scope of your campaign. You can see if your campaign is cohesive or identify gaps where you could post more content.
It also guarantees you post content consistently.
[  ] Engage with your audience
When you learn how to do Facebook marketing, you understand that audience engagement is a critical component of driving success with your campaigns. To have success with Facebook marketing, you need to engage with your audience — both on your posts and within Facebook Messenger.
If people comment on your posts, make sure to comment back — even if it's a short and sweet comment. You'll especially want to reply to comments that carry a question or concern.
Similarly, you'll want to check your Facebook Messenger often to ensure that you reply to followers in a timely fashion. Some users will use Messenger to ask questions or raise concerns, so you should make sure that you check it often and reply quickly.
This shows that you care about your customers and gives you a chance to provide a great customer service experience.
Engagement is a critical component of social media. It helps you build brand recognition and trust with your audience, which leads to further engagement and future customers for your business.
[  ] Monitor your organic posts
The last element on our Facebook marketing checklist is to monitor your organic posts. Whenever you share content on Facebook, you want to keep track of it to see how it performs. It will help you determine which type of content works best, what time of day is best for posting, and more.
You can use Facebook's built-in analytics platform, Facebook Insights, to do so.
You can monitor metrics like:
Engagement
Reach
Likes
Follows
Shares
You'll want to determine which metrics are most important for driving the results you desire with your Facebook strategy.
Unmatched WOW Services
Net Promoter Score is the leading metric for customer satisfaction.
WebFX clients score 394% higher than the industry average.
Facebook ads checklist: How to get started with Facebook ads
In addition to your Facebook marketing checklist, you'll also want to have a Facebook ads checklist. Facebook advertising is one of the best ways for your business to reach qualified leads that haven't discovered you yet.
If you want to launch a Facebook advertising campaign, here's your checklist:
[  ] Set up your Facebook advertising account
To start advertising on Facebook, you need to set up a Facebook ads account. You can go into the Facebook Business Manager and set up your ad account from there.
[  ] Choose your ad objective
Next on the Facebook ads checklist is to choose your ad objective. You need to set your ad objective, so you know what you're trying to achieve with your campaign.
Here are some ad objectives you can set:
Increase brand awareness
Increase reach
Increase traffic
Increase leads
Increase messages
Increase conversions
You will need to set your Facebook ad objective in Facebook Ad Manager for each campaign. Facebook will give you a list of ad objectives and you can choose the one that fits best. Once you set your ad objective, you can move on to setting up the rest of your ad.
[  ] Pick your ad format
Like the different content options you have with organic Facebook content, you also have a variety of Facebook ad formats to choose from.
There are numerous types of Facebook ads, including:
Photo ads
Videos ads
Right column ads
Dynamic product ads
Slideshow ads
Collection ads
You can test a variety of these formats to help you figure out which format drives the best results for your business.
[  ] Set your target audience
If you want to drive results with your campaign, you need to know who you're targeting. You'll want to look at your current customer base and identify characteristics like:
Age
Gender
Location
Occupation
Familial status
Buying habits
Interests/hobbies
Use this information to form marketing personas. Marketing personas are fictional representations of real customers that enable you to target new customers that are most likely to purchase your products.
Once you know who you want to target, you can choose your targeting options on Facebook. Here are some Facebook targeting options:
Core audience: Target people based on age, interests, location, and more.
Custom audience: Target people who engaged with your business previously, both online and off.
Lookalike audiences: Target people who are like your current audience.
[  ] Set your budget
Next on the Facebook ads checklist is to set your budget. You need to know how much you can spend, so you choose the right bid amount for your ad.
Facebook gives you two options for your budget:
Total budget: The total budget is the maximum amount you spend for the duration of your campaign. So, if you have a total budget of $1,000, your campaign will run until you spend that budgeted amount.
Daily budget: With the daily budget, you set the amount you want to spend each day on your campaign. So, if you have a $10 daily budget and run a campaign for five days, you'll pay $50.
Either budget option can benefit your business. If you're running a short-term campaign, you may want to choose the total budget so you can use your budget up sooner rather than later. If you're looking for a long-term campaign, a daily budget is better to spread out your costs longer.
[  ] Upload ad creatives
Once you set up all the aspects of your campaign, you can upload your ad creatives. The type of ad creatives will depend upon the format you chose earlier.
When you're creating your ad, make sure you use high-quality visuals. Whether you're using photos or videos, you want to ensure you're delivering a visual that's clear and adequately scaled. Don't upload any stretched or pixelated images because it won't drive the best results.
[  ] Launch your Facebook ad
Once you have everything set with your ad campaign, you can launch your Facebook ad and start driving people to your page!
[  ] Install the Facebook pixel
An essential part of running a Facebook advertising campaign is installing a Facebook pixel. The Facebook pixel is a tiny piece of code that you install in the header of your site. When you install this code, you can track how people interact with your website.
You can install the code by following these steps:
Go to the "Events" tab in the Facebook Ad Manager
Select "Create a Pixel"
Obtain your code and integrate it into your site
The Facebook pixel is valuable for running retargeting campaigns. If someone visits your site and doesn't convert right away, you can target them again later and get them to come back to your site to convert.
[  ] Monitor your ad performance metrics
The last item to check off from your Facebook ads checklist is to monitor your ad performance metrics. When you launch an ad campaign, you want to ensure it's driving results for your business. If it's not, you need to adjust it to perform better.
The metrics you monitor will depend upon what you're trying to achieve with your campaign. You can monitor metrics like:
Reach
Clicks
Video views
Clicks
Conversions
And more
If you find you aren't achieving the results you hoped, you can conduct A/B tests on your ad to see how you can improve your ad to drive better results.
Learn more about how to do Facebook marketing for your business
Now that you have a Facebook marketing checklist and Facebook ads checklist, you can start building your presence on Facebook. If you're feeling overwhelmed, WebFX is here to help.
We have a team of over 250 social media experts that can help you build a campaign that drives results. In the past five years, we've driven over $2.4 billion in sales and over 6.3 million leads for our clients.
Want to get started with marketing on Facebook? Give us a call at 888-601-5359 or contact us online to speak with a strategist about our Facebook marketing services and Facebook advertising services!
The post Facebook Marketing Checklist: The Ultimate Facebook Checklist appeared first on WebFX Blog.