Here's a great article from WebFX Blog

As search engines endlessly hone their skills, search engine optimization (SEO) continues to change. That's why you need the latest report on effective SEO tools that impress businesses and SEO experts alike.
There's a dense jungle of sophisticated SEO tools out there — but you only need the top-of-the-line picks that offer practical features and effortless functionality. Here are the 10 must-haves you can actually use in 2019:
Below, I outlined the best free and paid SEO tools to fit your unique budget and business goals.
Ready to find out what makes them stand out and start upgrading your rankings? Just keep reading!
To get your SEO campaign up to speed, contact us online to speak with an expert or call us at 888-601-5359.
5 best free SEO tools
If you can add robust tools to complement your SEO campaign without spending money, it makes sense to start there.
Several of the best SEO tools are free, and they remain tried-and-true resources to find profitable keywords, brainstorm content topics, evaluate sites, and review backlinks. Here are the five best free SEO tools.
1. Google Search Console
As the premier search engine, it's no surprise that Google offers a masterful tool to support SEO strategies. Google Search Console lets you directly request URL indexing, receive notifications about site problems, and gain suggestions for optimization  — all for free.
With Google Search Console, you can also take advantage of Google Search Analytics, which shows how your tailored keywords perform. Google Search Analytics and Google Search Console work hand-in-hand, so you can start directly from the Analytics page.
This is one of the best SEO checkers because it presents areas for actionable progress to push your organic traffic higher.
At WebFX, we also have a free SEO checker that can score your site for a specific keyword. Head on over to see if your site is SEO-friendly or if you need to step up your SEO game.
2. Keywords Everywhere

Keyword research is the heart of successful SEO strategies, and Keywords Everywhere is a convenient browser add-on for Chrome and Firefox that uncovers specifics about keyword trends.
When you type in a potential keyword, it delivers information about the search volume, competition, and CPC value. Data on the popularity of queries is useful for crafting high-ranking content and pleasing your audience.
Keywords Everywhere goes beyond Google, too — it also operates on Bing, YouTube, and other sites.
As an extension and with informative, compiled data, you can start your SEO research by simply opening a new browser tab.
3. Screaming Frog SEO Spider (free version)

For auditing websites like search engines, the Screaming Frog SEO Spider is resourceful and meticulous. It serves as a crawler to audit your SEO strategy and produce advice from a bot's perspective.
Rapid feedback on your pages is one of the most attractive qualities of this SEO Spider. In real-time, it diagnoses your website's SEO health.
As a heavily analytic tool, it's thorough in detecting numerous ranking factors that Google or Bing crawlers look at. It locates redirects, server errors, broken links, duplicate content, and other barriers that hurt your rankings.
The Screaming Frog SEO Spider brings to light plenty of weak spots that need TLC. If you have empty or repetitive meta descriptions, it calls your attention to these mishaps.
4. WooRank (free version)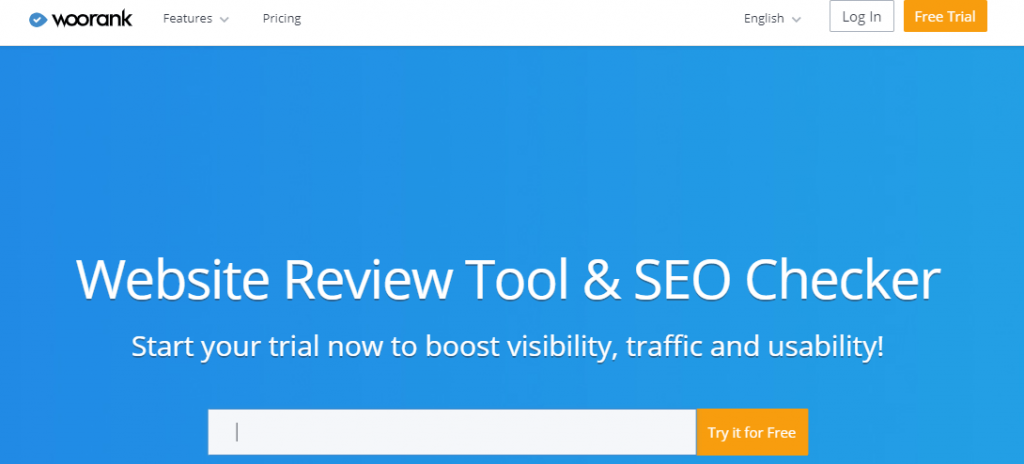 Another handy Chrome extension, WooRank explains the condition of whatever website you're on. If websites don't have an existing score, you can ask WooRank to do a quick inspection.
WooRank grades websites on SEO criteria like keyword performance and content structure, and it shows where a page is falling short. It also extends positive comments on what you're doing well.
For SEO content optimization, the extension points out the impact of your title tags, headings, links, and more.
It breaks down your performance in categories like usability and mobile optimization, so it covers many bases that other free tools fail to assess. It's a comprehensive add-on that you can use to do reconnaissance on your competitors, too.
5. Answer the Public

Insights into user questions can beef up your keyword targeting and help you create content that matches the search intent of target customers.
Answer the Public organizes descriptive questions from searches, related queries, and comparisons. Rich questions can focus your keyword targeting and content creation, which is invaluable for SEO.
Because Google and alternate search engines pay close attention to user experience, your ranking can improve by meeting the needs of searchers.
What puts Answer the Public into the best SEO tools grouping is its ability to turn a concise one-word search into a range of possibilities. Although the free version has limits, it's highly informative and boosts your visibility in search engine results pages (SERPs).
Top 5 paid SEO tools
While it's fun to get freebies, investing in advanced tools can drive more revenue and qualified leads. Many tools are worth the price, and digging into the full paid features can yield a well-rounded view of your SEO.
Here are the top five paid SEO tools.
1. Ahrefs

Price: Starting at $99 per month
A long-time favorite, Ahrefs is widely used for SEO, and even in 2019, it continues to show up in experienced marketers' toolkits.
Ahrefs has a collection of tools, including rank tracking, web monitoring, content and keyword research, competitive analysis and backlink research.
With at least 16 trillion known links and ongoing crawling, their index is expansive. Its best paid feature is the Site Explorer, which analyzes backlinks and gathers in-depth research.
Bonus: Among their resources, they offer a free SEO toolbar that reports on well-known search engine metrics.
2. Moz Pro

Price: Starting at $99 per month
Moz Pro also garners a lot of recognition as an SEO tool because it pulls together multiple capabilities into an all-in-one suite.
Especially for large-scale businesses, Moz Pro provides a sizable number of components to help your bottom line. From crawling to keyword research, it highlights different stages of SEO, and it's skillful at monitoring developments in your campaign.
On both local and national fronts, Moz Pro gives an exceptional outlook on visibility. Its reports help you implement authentic recommendations, linking opportunities, and content quality considerations.
3. Majestic

Price: Starting at $49.99 a month
Behind Majestic is an advanced link intelligence map, which is perfect for grasping your website's place on the Internet.
Majestic has a site explorer, backlink history checker, and search explorer that orient your page in the larger scheme of things.
Particularly in link building, it can pass on the big picture of your website so you can perform the right adjustments. It checks backlinks in bulk, and Majestic even offers a "topical trust flow" to display your proximity to industry authorities. Also, its bots sift through domains — even competitors', which can make you a viable contender — and supply precise data to shape your strategy.
It's also a more affordable paid SEO tool so you can maintain your marketing budget.
4. SEMrush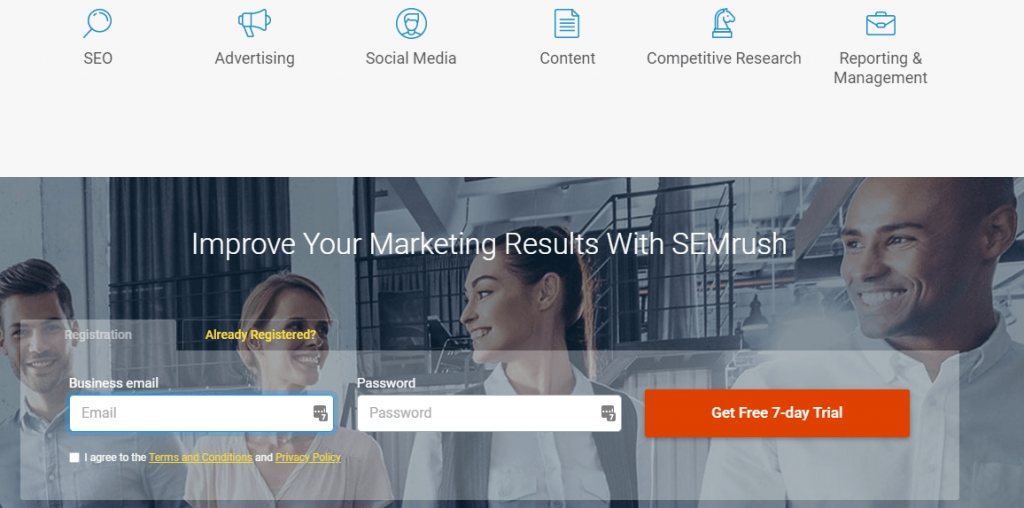 Price: Starting at $99.95 per month
SEMrush is a marketing software that can boost your online presence in the eyes of search engines. If you want to see your organic traffic surge, this resource spreads your reach and revamps your SEO practices with fact-based insights.
It's proficient in comparing domains and their related keyword rankings, which can let you branch out to competitors' high-ranking keywords.
SEMrush's solutions highlight many technical analytics so you can keep up with your position on search engines. Their software involves 28 tools to sharpen your SEO strategy, and they offer guidance in wielding keywords through content, blogs, and product pages.
5. Raven Tools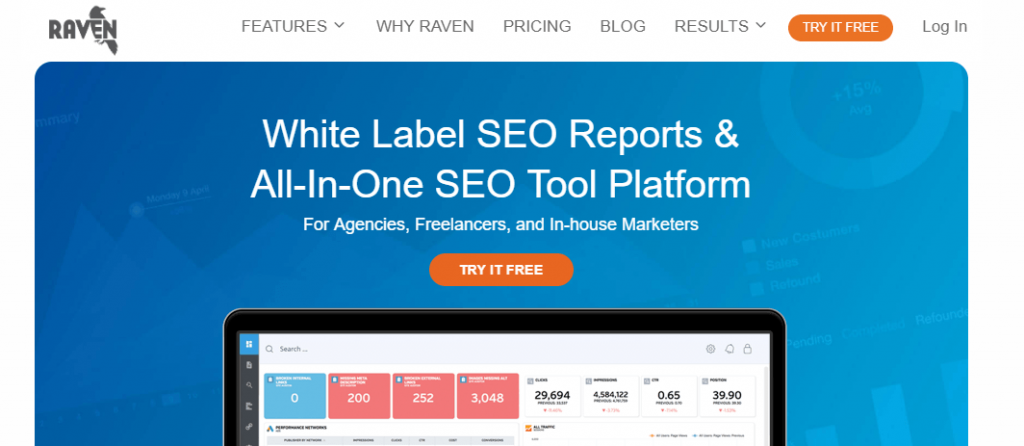 Price: Starting at $79 a month
Raven Tools is a leading site auditor, and it has evolved tracking and reporting abilities compared to several similar products.
Raven Tools scores your website's SEO in a readable format. You can turn gaps in your strategy into successes once you know where to look.
Whether you have mobility issues or you're in the dark about your off-page SEO, Raven Tools is an incredible time-saver. Its 17 metrics peek into your website practices and allow you to bolster your pages, code, design, and layout for Google and related engines.
Need help using our recommended SEO tools?
The best SEO tools are always updating, and it's difficult to keep up with digital marketing trends. SEO experts that track the newest practices can maximize these tools and elevate your ranking.
WebFX has the #1 ROI tracking technology platform in the industry, and both our tools and team will drive revenue for you. We provide free access to the IBM Watson-powered tool, MarketingCloudFX, for all our clients.
To learn more about our SEO services and tools, contact us online today or call us at 888-601-5359.
The post Best Paid and Free SEO Tools: 10 Must-Haves to Use in 2019 appeared first on WebFX Blog.