Here's a great article from WebFX Blog

The Internet makes marketing accessible for all sizes of business, and these online resources can spread your business' name across your industry. The applications on the market in 2019 open up new possibilities for small businesses. Online marketing services for small businesses can fit your budget, audience, scope, and intentions.
For a trusted online marketing service provider, check out WebFX's effective digital marketing services. With more than 20 years of experience, we will improve the ROI for your small-to-midsize business (SMB).
To make the most of 2019, here are 10 online marketing services for small businesses. If you'd like to speak with an online marketing specialist before reading on, feel free to give us a call at 888-601-5359!
Hootsuite
As social media has grown in popularity, there is a range of platforms to share your content on. With so many channels to juggle, social media engagement can be a major task. Hootsuite is social media management that can unify your company message and reduce the time you spend posting.
Hootsuite serves as a single location to schedule, create, and publish social media posts for your small business internet marketing. It also monitors relevant topics for your business and tracks the performance of past posts.
This service also helps you interact with people by identifying conversations in your area of expertise or about your business. With filtering by hashtag or keyword, you can participate in industry-related discussions.
Google Analytics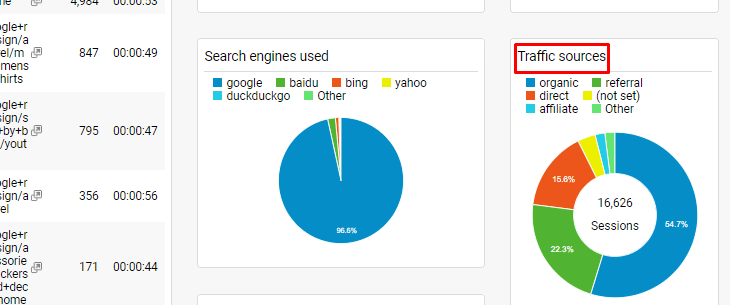 Google Analytics is a leading online marketing service for small businesses, and it can show you behavior patterns from your target audience and communicate best practices to gain website traffic. With customizable components, you can easily monitor where visitors are flocking to your website from, which keywords are delivering results and the traits of your audience.
Diagnostics on your content appear in a user-friendly dashboard, and you can set up periodic reports to manage your material. This comprehensive application also displays the revenue, conversion rate, and sessions from your online marketing campaigns. Google Analytics can reflect your strengths and weaknesses through the entire customer journey.
Buzzsumo

Releasing content and social media posts are better with active monitoring, and Buzzsumo reviews your content's performance and detects corresponding trends. This tool is ideal for researching applicable subjects that interest your audience.
Focusing on popular social media platforms, Buzzsumo passes on insights about shared content. As an analytics tool, it can compare your material and results with your competitors.
Their alerts can also help you stay on top of progress for your content and emerging changes. You can observe and act on these updates to extend your brand's reach.
MarketingCloudFX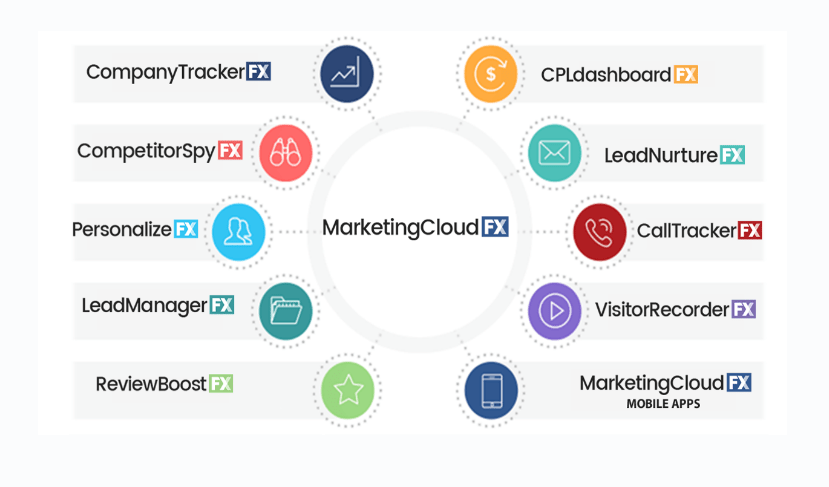 MarketingCloudFX can back your marketing strategies with its robust solutions. You can evaluate the best methods to benefit your company, especially in maximizing your purchasing funnel.
MarketingCloudFX is fueled by the top-of-the-line artificial intelligence application, IBM Watson. The machine learning collects information about calls from website visitors and the overall revenue from your website, which makes it uniquely equipped.
This marketing automation software is compatible with other platforms like Marketo and Amazon Seller Central. It's only available to WebFX clients — although it's free of charge — but it's a sophisticated option for SMBs.
Adobe Marketing Cloud

The solutions included in Adobe Marketing Cloud set it up as one of the foremost online marketing services for small businesses. The system deal with various parts of online marketing via its tools:
Adobe Campaign
Adobe Target
Adobe Experience Manager
Adobe Marketo Engage
Cultivating your campaign across channels, Adobe Marketing Cloud addresses everything from campaign forecasts and content assessment. You can optimize your website and marketing efforts with the integrated cloud.
Its scope is wide and Adobe Marketing Cloud can facilitate large amounts of data to amplify your online presence. The dynamic and encompassing tools profile your audience and make the most of your platform.
Act-On

Whether your small business is concentrating on visibility or leads, Act-On tackles outbound and inbound marketing that can strengthen your campaigns. It can give you a full understanding of the nature of your potential customers with data interpretation and automated message delivery.
During the sales cycle, your marketing tactics can take several forms to draw in customers. Act-On includes email marketing, search engine optimization (SEO), and lead engagement, among other components, to suit each stage.
For scalable actions, Act-On provides a rapid time-to-value rate. They offer landing page services to welcome visitors, and their conversion-centric steps prioritize the customer experience.
HubSpot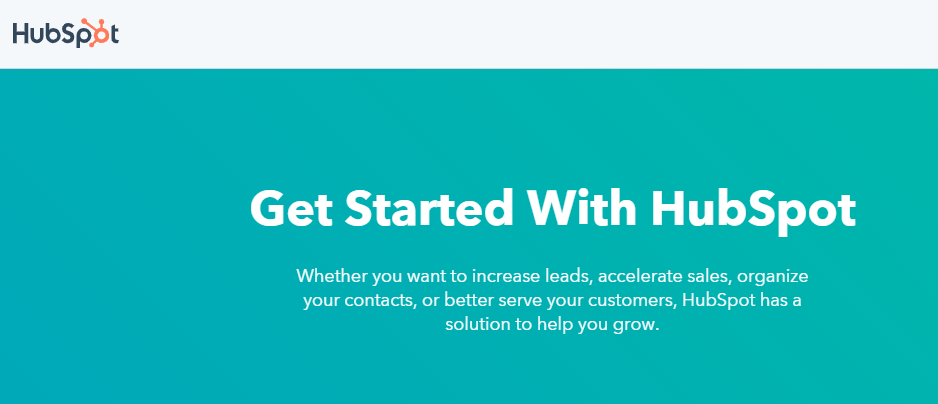 HubSpot has capabilities for sales, marketing, and service, and they have impressive customer relationship management (CRM) that's free. Personalization is at the center of its applications, and the CRM reports useful data about your small business website.
Their cloud-run system contains an expansive group of tools, and it is simple to use. The marketing analytics directs you to close more sales, and the HubSpot dashboard organizes your efforts to connect with people and generate revenue. Real-time tracking in the application means you don't have to continually sync information between channels.
With their blogging tools, your content and formatting can draw in more visitors and lead to conversions. HubSpot's software empowers you to appraise your business interactions and capitalize on leads.
MyEmailFX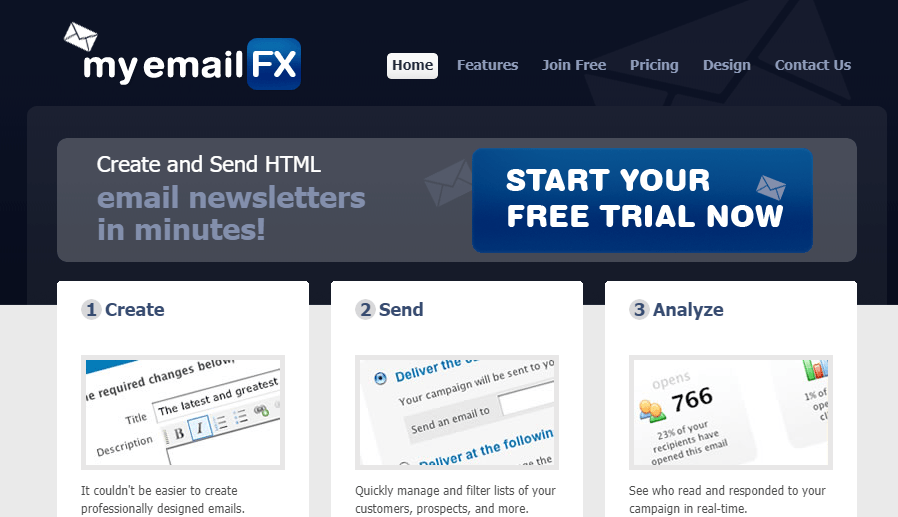 Email marketing is a productive technique for winning over customers, and small business internet marketing services with email functions can regulate the process. You can create, send, and analyze emails with MyEmailFX.
For your business' HTML newsletters, this service crafts professional messages and templates to distribute to your leads and tracks the responses. The filters and management elements help you segment your audience.
You can take preemptive measures by scheduling upcoming emails, which can complement editorial calendars. MyEmailFX only requires payment when you initiate the campaign by sending the messages, too, so it's a straightforward choice.
CallidusCloud

Small business internet marketing services are only worthwhile if they embrace current trends, and CallidusCloud is a modern service that can bolster your performance.
Rather than a basic CRM, CallidusCloud boasts a sales-focused approach. By executing automation and generating prospective buyers, you can configure the optimal setting for conversions.
The right level of marketing with CallidusCloud can serve your distinct business purposes.
Mailchimp

Through social media advertising, email campaigns, and remarketing ads, Mailchimp can elevate your small business marketing needs. Like MyEmailFX, it hones in on email strategies.
It extends a CRM for an audience overview, contact organization, and messages that follow through with customers. Automated output lets you stay in touch with your audience around the clock, and this time-saving technique can let you concentrate on other aspects of your small business.
Mailchimp also includes optimizing tools and streamlined automation. You can gain brand exposure and raise your revenue with the various campaign accessories.
Grow Your Business With Online Marketing Services
Online marketing services for small businesses can positively support your efforts, but it takes more than tools to grow your marketing. The expertise of the people behind the software is the key to prime performance.
WebFX supplies the tools and skilled team to heighten your online marketing campaign, and our custom digital marketing packages include lead-boosting features and reliable plans. We are a trusted agency for small-to-midsize businesses, and our dedicated team members are ready to come alongside your business.
To learn more about our proficient digital marketing services, call us at 888-601-5953 or contact us online today.
The post 10 Online Marketing Services for Small Businesses in 2019 appeared first on WebFX Blog.