Here's a great article from WebFX Blog

In this video, Hunter from the WebFX Social Media Team will explain how to create a B2B social media strategy that actually works. 
Transcript:
You probably hear a lot about business-to-consumer (B2C) companies owning the social media game. But business-to-business (B2B) companies are also out there making waves.
If you want a B2B social media strategy that makes people excited to work with you or buy from you, we've got some expert advice that'll get you on your way. 
I won't ramble on any longer. Let's start with what you need to do before creating your B2B social media posts. 
Important steps before creating your B2B social media strategy
All right, before we get to the actual content you should share online, let's start with the planning. And really, putting together your B2B strategy for social media isn't all that different from prepping your overall marketing plan.
Outline your goals 
You can't launch any marketing strategy without knowing what you want to get from it. It's especially important with B2B social media because you have many different social media platforms to choose from and a lot you can do on each. But not everything will work for you. 
While posting videos on TikTok may work well for companies that sell to consumers, I'd say there's a good chance you won't get what you need in terms of hitting your business goals. 
So before you make any decisions regarding where you'll post and what you'll create, figure out why you want to be on social media.
Do you want to increase website traffic or leads? Want to drive traffic to informational pages and encourage email subscribers? Interested in recruiting new team members?
One great way to set goals is to use the SMART method. SMART stands for specific, measurable, achievable, relevant, and timely.
Using this framework, you'll have a better idea of what you can do to drive revenue for your business.  
Oh, and your goals don't necessarily have to be the same across all platforms. What works on, say, Facebook, may not do as well on LinkedIn. 
Identify your target audience 
Think about your audience in terms of who typically spends money with your company. Who do you want to engage with your content? 
If you manufacture materials for construction projects, your audience probably includes architects, engineers, and contractors. That means the content you share should be aimed at the experts, not the average consumer.
Take a look at your existing social media accounts, or if you aren't on social media yet, review your competitors' accounts. Who most frequently interacts with your content?  
Knowing your target audience will not only shape your content strategy, but will also tell you which platforms you need to be on to get your message in front of the right people.
Understand your voice
You don't necessarily have to be serious and scholarly in your social media posts. But you do need to speak with one brand voice across social media platforms.
If you are serious and scholarly on your website, then maybe that's how you need to appear on social media. 
Do you consider your company fun and lighthearted? Your social media posts should reflect that.
However you'd describe your brand, make sure that everyone who has a hand in your social media strategy is on the same page.
Once you know what you want to achieve, who you want to reach, and how you want to sound with your B2B strategy for social media, you can start planning what you'll share. 
74% of people use social media when making a purchasing decision
Make their decision easy with a stellar social media presence. See how your brand can make it happen by requesting a no-obligation proposal today.
Enter your email below:
One of our experts will analyze your campaign and provide a proposal
How to craft a killer B2B social media strategy
1. Choose your ideal social media platforms 
Choosing the best social media platforms should come easy to you if you've done your research.
Truth be told, LinkedIn is the best lead driver out of all of the social media platforms. It's a great place to start hitting those lead goals. 
In terms of popularity, YouTube and Facebook lead the pack with 81% and 69% of U.S. adults saying they use them, respectively.  
But don't just choose a platform because it's popular. Remember the TikTok example from earlier? Popularity does not always equal success. 
2. Research what content your audience will engage with 
If you've already started sharing on social media, what are your most popular posts across channels? Pay attention to not just the content, but also the format and even the publish date and time.
Whether or not you have an existing B2B social media presence, take a look at what your competitors are doing and also make note of their content, formats, and publishing schedules. 
Your social media "competitors" don't have to be your business competitors. Is there a trade publication that has a lot of followers, or one of your suppliers whose regular posts spark great conversations? 
Try to find trends in what you're analyzing. Do people love links to articles most? Do they engage with customer testimonials? What makes your audience tick?
After identifying the content that performs best, you can start planning your content calendar.
3. Create a posting schedule 
Every great B2B social media marketing plan starts with a calendar. This will help you and anyone on your team working with your social media accounts stay on topic and on schedule. 
Choose which days you want to post and what you want to share each day. Maybe Mondays are live video days, or Fridays are #FlashbackFridays. 

But remember that your calendar isn't set in stone. Be prepared to rip it up (or just copy and paste) if you need to make adjustments. 
You can use a tool like Buffer, Hootsuite, or Sprout Social to schedule your posts in advance across all of your accounts.
4. Create or curate content based on your goals 
Maybe the most important and time-consuming part of your B2B social media strategy is creating or curating content to share with your audience. 
Don't overwhelm yourself. Sure, sharing a video each day can draw attention to your business, but that's a lot of work. You might not need to have something going out every day to see growth on your social media profiles. 
Create or find content aimed at each of your business's goals. 
For recruiting new employees, consider sharing testimonials from your team or behind-the-scenes content that showcases your culture. 
For driving leads, you may want to share interesting tidbits about your products and services. Behind-the-scenes visuals will work for this, as well as other things like videos and infographics explaining what you offer. 
Don't be afraid to get creative and experiment with different content formats. 
5. Interact with your audience 
Messages aren't passively received by audiences. Social media gives people a chance to react to your business and share their thoughts—both positive and negative.
Set time aside to check in on your social media accounts. Respond to comments so people know you're listening. If needed, craft a standard response to save time.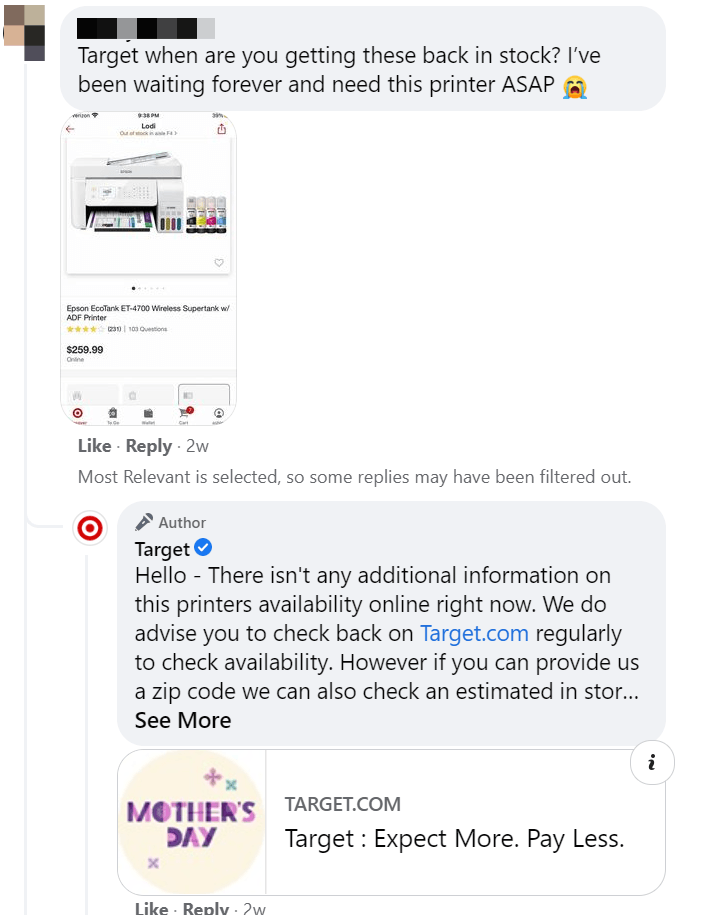 Don't let your inbox fill up with unread messages. If you're overwhelmed by messages, consider setting up a chatbot to answer basic questions. 
A lot of negative responses can indicate your audience has a problem with your business or your messaging, so pay attention to what people are saying. 
6. Check in on your post performance 
No B2B social media marketing strategy is complete without data. 
Looking at how your posts perform can help you plan your content for the next month and the month after that, and the month after that. 
Most social media platforms have their own analytics, so you can dive into those metrics pretty easily. 

But if you're trying to see how social media generates traffic or leads, you'll have to use a tool like Google Analytics to track that. You'll have to add the Analytics tracking code to your website to see your web traffic and conversions from social media.
Not to brag, but our MarketingCloudFX tool is great for tracking leads from your marketing campaigns. 
Overall, I think the major lesson here is: know your goals. You can't do much without them. 
So, my goal-setting friends, that's all for this B2B social media video. 
If you enjoyed what we've created for you, give us a thumbs up and subscribe to our YouTube channel. 
And don't forget to subscribe to Revenue Weekly, our email newsletter. 
See you next time!
The post B2B Social Media Strategy: How to Dazzle Your Audience appeared first on WebFX Blog.