Here's a great article from WebFX Blog

Do you struggle to sort out your ad budget and optimize your keyword bidding for the best return on investment (ROI)? Visibility across ad platforms is valuable. Centralizing your pay-per-click (PPC) initiatives, however, can clear up the confusion.
PPC bid management tools can support you in your efforts to navigate auctions, and that's why these 10 bid management tools can transform your marketing campaigns and generate positive revenue for your business.
Keep reading to learn more about these bid management platforms! If you'd like to speak with a specialist about bid management, feel free to contact us online or give us a call at 888-601-5359!
1.      Acquisio
Price: Starting at $300 per month
With efficient automation, this bid management platform takes you through each stage of the bidding process. Acquisio streamlines your campaign by tracking and adjusting search, social and display ads.
With predicting and launching support, you can rapidly set up a comprehensive account.
Its user-friendly online dashboard compiles data from several search engines, including Google and Baidu. For reference, Baidu is the second biggest search engine in the world, claiming a significant portion of the Chinese market.
The automating capabilities and advanced bidding elements of Acquisio save you significant amounts of time, and the reports make evaluating the strategies accessible and readable for everyone involved.
2.      Marin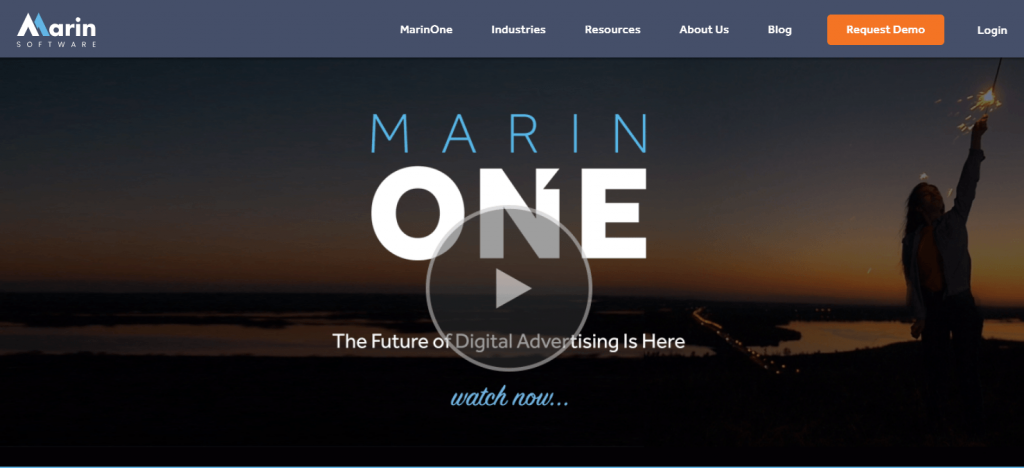 Price: Custom
MarinOne, the bid management platform for Marin Software, unifies marketing efforts between Amazon, Facebook, and Google. Their AI-equipped system discovers the best keywords and clustering for your purposes.
The reports integrate multiple channels to prevent conversion redundancy and analyze the accuracy of different avenues. Besides analysis, MarinOne brings a wider volume for ads than individual websites typically offer.
The dashboard features customization to present the necessary information for staying up to date. MarinOne also provides special measures for ecommerce, education, retail, and other industries.
3.      Kenshoo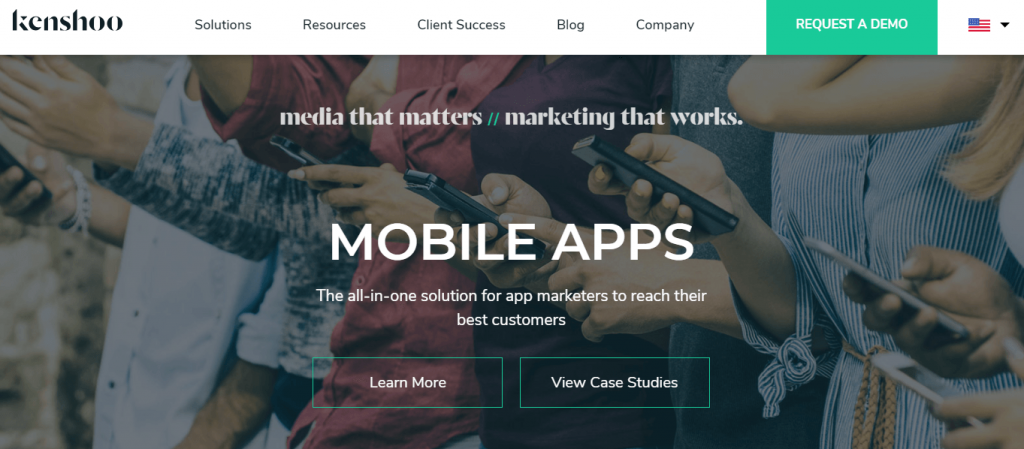 Price: Custom
By accommodating various sizes of operations, Kenshoo's insights serve as a guide through critical decision making. From global advertisers to local entrepreneurs, this tool capitalizes on digital media marketing.
The scaling of their social media can spread brand awareness, and their open platform helps deliver a deeper understanding of customers. Kenshoo stands out in its app presence, ranking and retention. Their mobile solutions for bid management are ahead of the game, and they lead to productive use of ad finances.
4.      Adalysis
Price: Starts at $99 per month
Adalysis algorithms set up the right checks for your business, and once the system detects issues, you can receive actionable advice. With metrics-based testing, you can forecast the outcome of promising keywords and ads draft.
Its account alerts signal changes in your PPC bidding campaign, so you don't have to monitor the software. These alerts may warn you about ineffective keywords, and you can take advantage of the automatic pausing tool to conserve your funds.
Adalysis' dashboard has an interactive layout to give shape to your progress, and the PPC management tool can strengthen your conversion rate and drive traffic.
5.      WordStream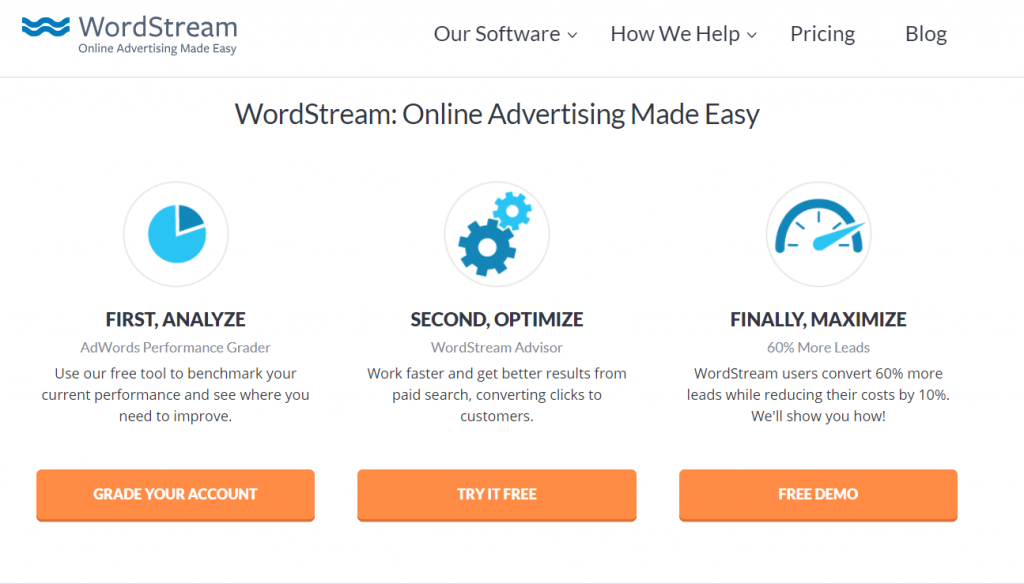 Price: Starting at $264 per month
Concentrating on Google Ads, Facebook, and Bing, WordStream formulates and supervises PPC ad initiatives. They start by scoring your existing PPC approaches, comparing them to industry practices and accounts with budgets similar to yours.
By prioritizing your unique goals, the software recommends the best tactics to move forward, unlike similar software that relies solely on raising bids. Its sophisticated targeting options allow you to spot essential details for guiding your PPC bidding.
WordStream takes about 20 minutes of attention each week, so it's a speedy fix to organize your campaign. Small- and medium-sized businesses can benefit from WordStream's restructuring recommendations.
6.      IgnitionOne

Price: Custom
IgnitionOne enacts marketing practices and passes on data-backed observations. Their data science and modeling explain the distinct trajectory of customer purchasing and the customer-specific knowledge for programmatic and social media ads.
To create consistent ad messages for every location, IgnitionOne promotes customer intelligence and consistency. They also have creative assistance to complement your PPC advertising campaign.
The intuitive software simplifies bidding and expedites workflow. With expertise in understanding preferences, IgnitionOne handles the customer journey to lift the burden of multi-channel bidding.
7.      Optmyzr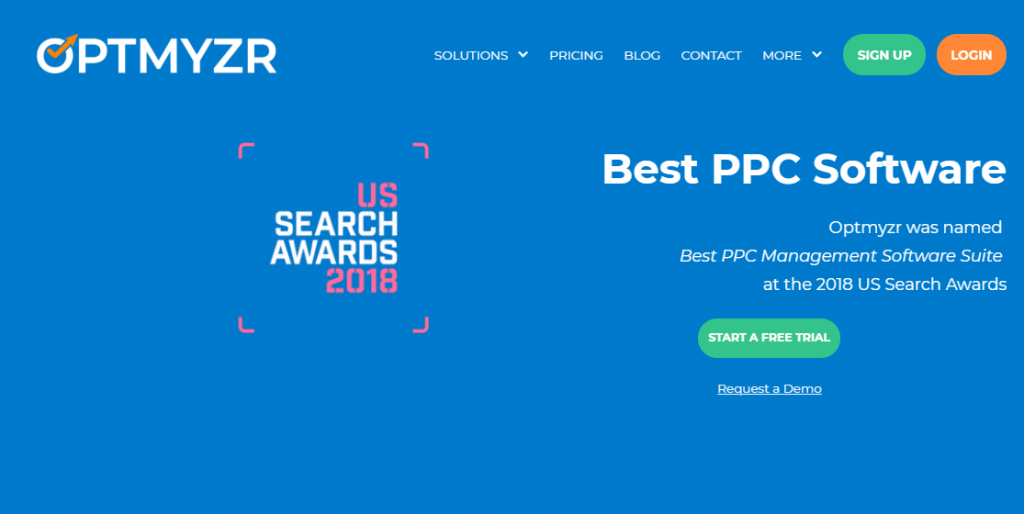 Price: Starting at $499 per month
As a cost-effective alternative to enterprise software, Optmyzer releases and maintains campaigns with precision. By tracking your prior marketing moves, the system can respond with quick and exact suggestions for you.
You can review the effects of your bidding through reporting, monitoring, and periodic notifications, and you can act fast when you get immediate notices about problems and weaknesses in your PPC endeavors.
There are a variety of features to meet your needs, like PDF files, dashboards, and slideshows.
This management tool concentrates on optimization to advance PPC campaigns. Optmyzer also includes prewritten PPC scripts and application programming interface (API) integration for your development team to use.
8.      Clickable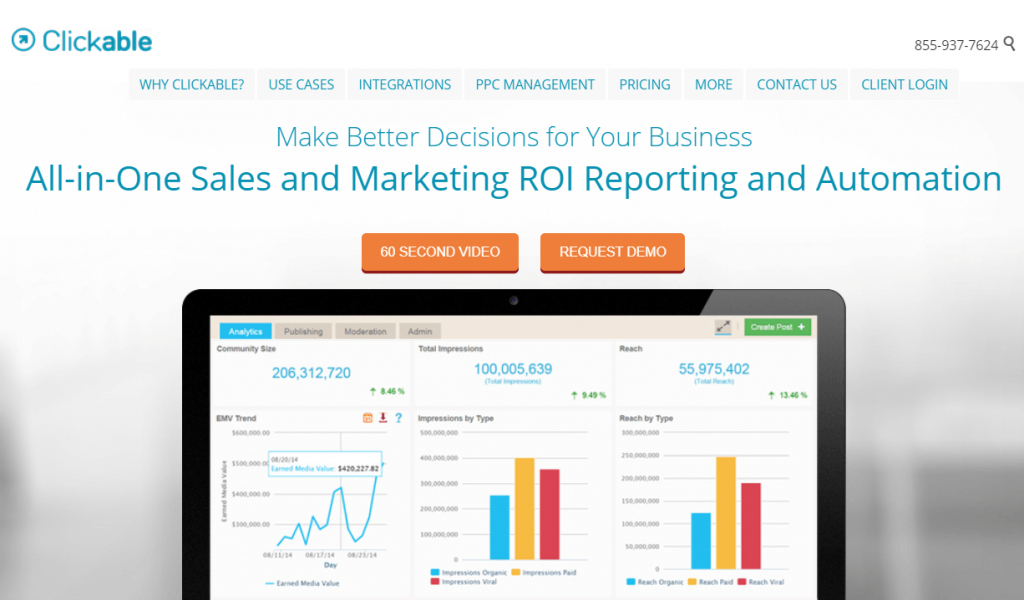 Price: Custom
Presenting itself as a one-stop-shop for sales and marketing ROI, Clickable joins a range of data sources — and PPC is just one of the many areas you can oversee. As an overarching analytic tool, Clickable can show real-time bidding and carry out adjustments fast.
Its automated reporting reduces errors and out-of-date data so you can make the most of your advertising funds. Consolidating your information into a single hub can uncomplicate your business practices.
With a broader base of channels, including Bing, Google, Twitter, Facebook, and LinkedIn, the PPC management assistance heightens tracking, targeting, and buying to maximize your advertising ROI.
9.      Shape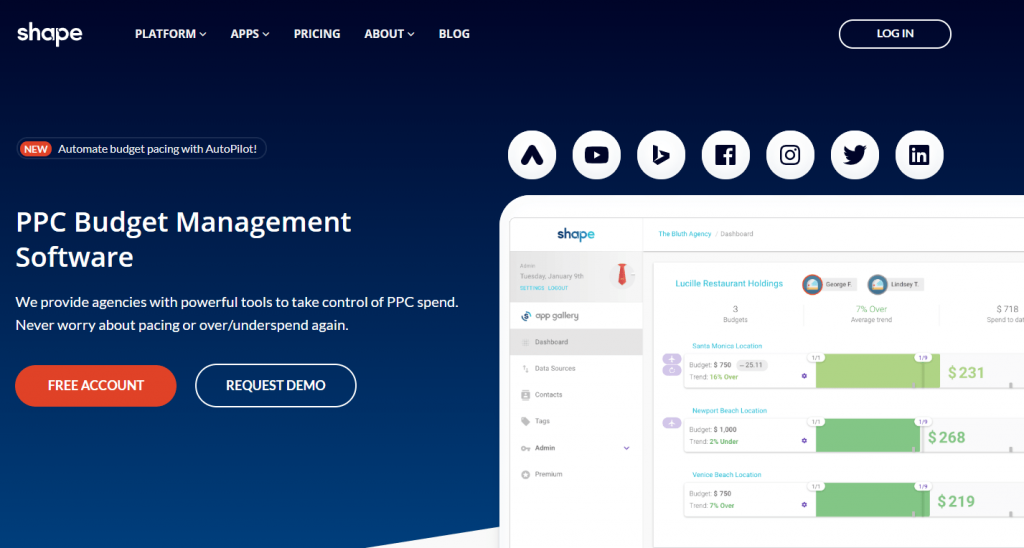 Price: Starting at $0 for one account or $299 per month for unlimited accounts
To shift from manual management to automated ease, Shape ensures your funds get dispensed intentionally with exceptional ad execution. It also implements modifications to your ad accounts.
Shape's AutoPilot feature halts ads when your budget is complete, according to previously set preferences. This algorithm frees you from watching a screen and checking in on the state of your campaign.
If you'd like to use leftover funds or need to supplement a period's higher spending, their RollOver tool balances your uneven spending. Primarily helping your ad bidding finances, Shape can let you visualize your marketing goals too.
10. PPC BidMax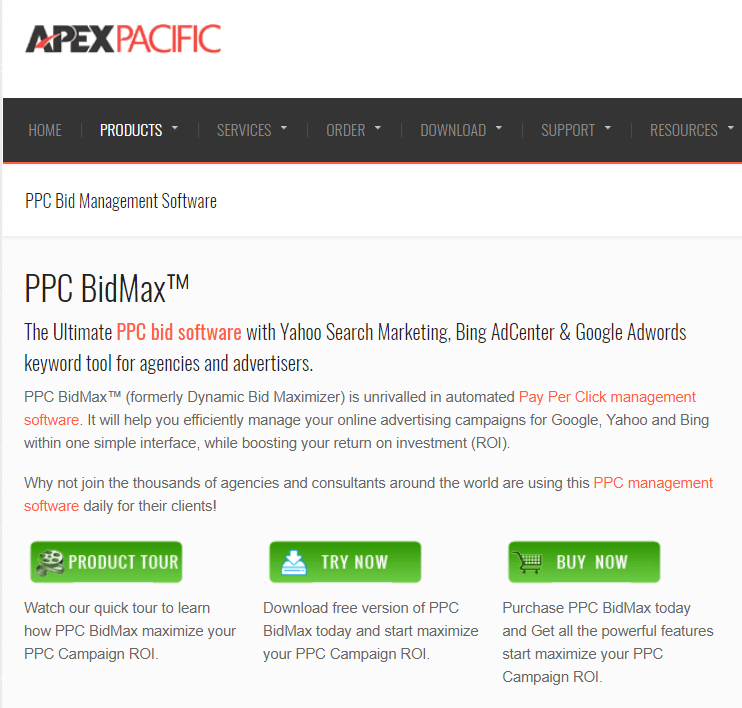 Price: Starting from $60 per month
Centering on popular search engines like Bing and Google, this PPC bid management tool mechanizes your keyword auctions for a better ROI.
Apex Pacific's PPC BidMax helps you create and regulate search engine-specific keyword bidding. Its ongoing operations with a vast scope of keywords can achieve a higher rate of conversion.
You can quickly activate, change, and pause campaigns, and this can produce quality traffic for your website. Importing and converting ads across search engines is straightforward with this platform, and it can cut back your cost per conversion and time-intensive management tasks.
PPC BidMax also offers advanced and customizable reporting tools to relay the current status of your budget and keywords. With scheduling, you can collect and share vital data about your biddable ads.
Need more than a bid management platform for your ad campaigns?
Powerful bid management platforms can initiate positive performance for your business, but it's crucial to partner with seasoned marketers for long-term success. You need professionals who understand PPC to craft and execute high-quality ad campaigns.
Our team of 200+ PPC experts at WebFX can optimize your bidding to maximize your ROI and ad spend. In our partnership with York Saw and Knife, for example, we accomplished an impressive 20 percent decrease in cost per conversion.
Check out our PPC management services today to watch your profits surge.
The post 10 Bid Management Tools That'll Change Your Life appeared first on WebFX Blog.