Here's a great article from WebFX Blog

When you're building your online presence, you'll come across many different strategies you can use to grow your business organically — including search engine optimization (SEO) marketing.
SEO marketing is an excellent strategy for attracting leads, generating sales, and more.
On this page, we'll discuss SEO marketing, the different types of SEO, and how to do SEO marketing for your business. If you need professional help with your SEO strategy, check out our SEO pricing plans or contact us online or call us at 888-601-5953 to chat with a strategist!
What is SEO marketing?
SEO marketing is the process of improving your website's ranking in search results on Google, Bing, and other search engines. Increasing your site's organic ranking helps drive valuable organic traffic to your website.
Why does SEO marketing matter?
Search engines want to provide the best results for users.
That means high-quality, informative listings that fit the user's search query. By using SEO marketing, you can help your website's pages appear in relevant and valuable search results.
SEO helps you earn quality traffic too.
When people visit your site, you want them to be people interested in your products or services. SEO allows you to optimize your website to reach the people looking for your business.
There isn't any point in driving traffic to your site if it isn't quality traffic.
If you appeared in searches for Apple products when you sell fresh apples, for example, you wouldn't drive relevant traffic to your site. By investing in SEO marketing, you'll guide the right traffic to your website.
SEO marketing also helps you with traffic quantity.
If more people are visiting your site and learning about your business, it sends a positive signal to Google that your website is relevant to search results related to different pages on your site.
It will help rank your site higher, which means more people can find and visit your page.
3 parts of SEO marketing that influence your rankings
SEO marketing is an in-depth method that has numerous moving parts. This strategy can be complicated to understand because SEO involves many components.
Let's break down the three parts of SEO marketing:
On-page SEO
On-page SEO involves any optimizations on your website.
This portion of SEO includes strategies to optimize individual pages on your website.  You implement changes on a page to help it rank better in search results.
Here are a few on-page SEO optimizations you'll use to help your business grow:
Keyword research: Keywords are a crucial component of SEO. Your audience uses keywords to generate results and find the right website. This optimization is one of the on-page SEO tactics you can use to help your site rank better in search results.
Keyword optimization: Aside from finding the right keywords, you must incorporate them into your page. This practice is a critical component of SEO because it helps you rank in the right search results.
Content creation: Content creation is a vital component of a successful SEO campaign. Creating content helps you drive valuable organic traffic to your site. It's an on-page optimization that allows you to rank for keywords related to your company and audience.
On-page SEO is a crucial part of the SEO process because it helps you rank in the right search results.
Technical SEO
Aside from on-page SEO, there is also technical SEO.
Technical SEO involves the backend of your site and optimizing those components to help your site rank better.
Optimizations for technical SEO include:
Improving your site's speed: Your site load time influences whether users remain on your website or leave. Your audience doesn't want to wait for slow-loading pages, so you must optimize your pages to load quickly. You can use Google PageSpeed Insights to help you find optimizations for your site.
Making your site mobile-friendly: People use their cell phones to access websites more than ever. It's crucial that you optimize your page to be mobile-friendly so these users can have a positive experience. A great way to make a mobile-friendly website is to use a responsive design.
Increasing your site's crawlability: Your website appears in search results because search engines, like Google, crawl and index your site and its pages. To help your pages get indexed, you must make your website easily crawlable for search engines. You can do this by adding a txt file to your site.

If you want to optimize your site for SEO marketing, you must optimize the backend of your website, too.
Off-site SEO
Off-site SEO involves any off-page SEO strategies outside of your company's direct control. This practice helps strengthen your relationship with other sites and builds your online reputation in your industry.
The most common off-site SEO practice is backlinks.
Backlinks are links to your site from other sites. These links can improve a search engine's perception of your website, especially if the backlinks come from reputable, high-authority websites.
You can attract backlinks to your site by creating high-quality content.
If other industry authorities see your quality content, they're more likely to link to it from their website. In most cases, your business will have to conduct outreach to make these sites aware of your content and its value.
While outside your direct control, off-site SEO is a must for improving your site's ranking.
How to do search engine optimization like a seasoned pro
Now that you know more about SEO and what it entails, you can start implementing best practices to help you nail your SEO marketing campaign. Let's take a look at three techniques of SEO to help you get on the right track for marketing your site.
1. Build an SEO-friendly site
If you want to succeed with SEO marketing, start by building an SEO-friendly website.
Your website is the heart of your SEO campaign. If you're going to use SEO marketing to your advantage, you must build a website that is friendly for search engines to crawl and index. Your website should also be easy for people to use.
On-page and technical SEO strategies will help you build an SEO-friendly site.
To summarize, you'll want to:
Conduct keyword research and integrate relevant keywords on your website
Improve your site's load time
Make your site user-friendly
Optimize your title tags and meta descriptions to include keywords and be descriptive
Attract links from other websites to your site and its content
These practices are all ways for you to build an SEO-friendly website for your business.
By implementing these strategies, you'll help your company rank better in search results.
2. Create original, helpful, and engaging content
If you want to know how to do search engine optimization successfully, integrate content creation into your SEO plan. Content marketing plays a pivotal role in helping your site rank better in search results.
Content helps drive valuable traffic to your site and increases your ranking in search results. If you want to have an effective SEO marketing campaign, you must invest in a quality content marketing plan.
To get started with content marketing, you'll need to find industry-related topics to cover with your content, which can range from a blog post to an online guide.
Keyword research will help you find critical topics you can use to create content.
Once you have your topics, you'll choose your format.
Content comes in numerous formats, including videos, blogs, ebooks, infographics, and podcasts. You'll want to establish which forms resonate most with your audience, as well as the topic, and use a variety of them to keep your readers interested in your content.
After you choose your format, focus on hitting the user's search intent.
Conduct a quick search for your keyword and see what other content appears in search results.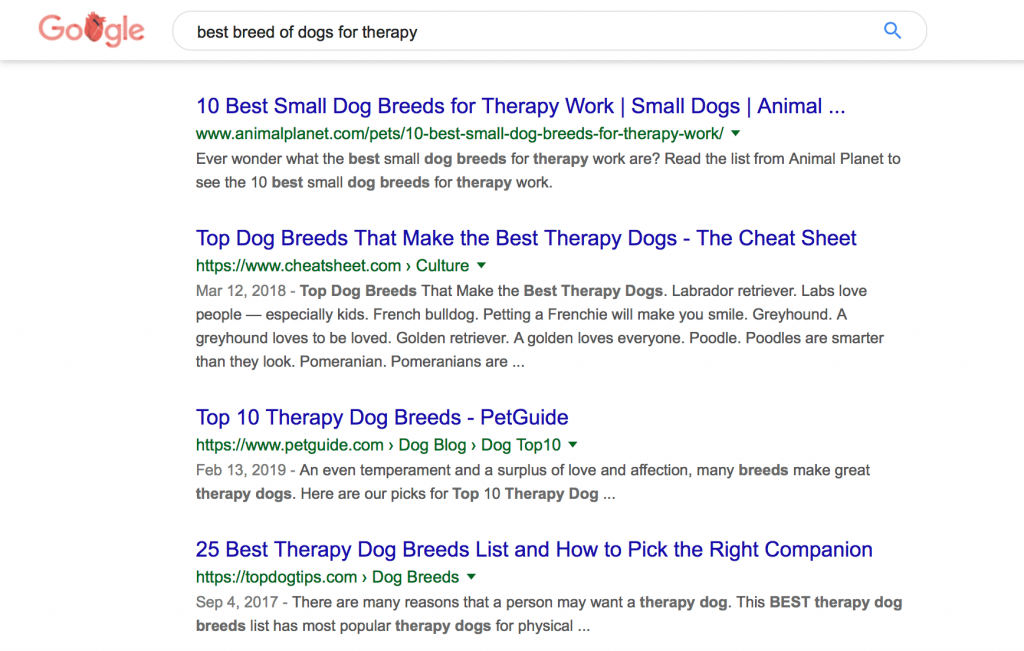 In this example, when you search "best breed of dogs for therapy," many results feature a numbered list for the top breeds. From these search results, you'll find that most people want and expect a list of different breed options for therapy dogs.
By looking at the search results, you can get an idea of what your audience expects to see.
When you create content, create it regularly.
A compelling content marketing strategy posts content often to not only drive traffic to your site. You also provide users with additional content that helps them learn more about a topic, research a purchase, and more.
By investing in content marketing, you'll help your business drive more traffic to your site and see more success with your SEO marketing campaign.
3. Monitor your analytics
If you want to be successful with SEO on Google, you must monitor your campaign.
You won't know if your strategy drives results for your business unless you monitor its performance. With Google Analytics, you can watch your campaign to see if it's generating the right results for your company.
Google Analytics allows you to see important metrics regarding your SEO campaign.
You'll see metrics such as:
Organic traffic
Bounce rate
Conversion rate
Dwell time
Number of pages visited
These metrics help you understand your audience's behavior, as well as the performance of your page.
When you monitor your analytics, you can see if you're driving quality traffic to your site.
These data points help you understand if your pages are relevant to the user's search query, if your audience spends a long time on your website after initially entering it, and if they check out multiple pages on your site.
By monitoring your analytics, you'll see which aspects of your campaign work and which ones need improvement. You'll also gain insight on how to optimize your campaign to drive even better results.
Start using SEO marketing today
SEO marketing is a great way to grow your business online. You'll help your company drive more organic traffic to your site and earn more valuable leads.
This strategy is valuable to your business, but it's an investment of your time. SEO is technical, which can make it a challenge if you don't have experience conducting outreach or optimizing the backend of your site. An SEO agency like WebFX can make those challenges go away.
At WebFX, we have over 20 years of experience creating SEO campaigns that drive results.
We have a team of over 200 experts that will bring their knowledge and expertise to your campaign. We'll help you create an SEO marketing campaign that boosts your organic traffic and enables you to increase your rankings in the search results through the use of our exclusive MarketingCloudFX software.
If you're ready to see how SEO marketing can help your business grow, contact us online or call us today at 888-601-5359 to speak with a strategist about our custom SEO marketing campaigns.
The post What Is SEO Marketing? (And How to Make It Work for You) appeared first on WebFX Blog.