Here's a great article from WebFX Blog

Everyone in Dee's town thinks her handmade soap is one-of-a-kind — your skin will never feel softer than after using the vanilla lavender variety. So, Dee decided to expand her business and open an Amazon Store. The problem? No one is buying her soap.
If you're like Dee and struggling to get Amazon sales, you probably need search engine optimization (SEO).
Amazon SEO revolves around optimizing or updating your product listings to increase their visibility or placement in Amazon search results. When you rank higher in Amazon search results, you can often earn more sales because more shoppers find and buy your products.
If you're ready to get started with SEO for Amazon, keep reading because this post answers:
What is Amazon SEO?
How does Amazon rank products in search results?
How can I rank higher on Amazon?
For more advice, tips, and tricks for how to rank on Amazon, subscribe to Revenue Weekly. This newsletter will keep you updated on the latest Amazon SEO strategies, plus overall tactics for marketing your business online!
What is Amazon SEO?
Amazon SEO is the practice of optimizing your product listings for Amazon's ranking algorithm, A9. These optimizations include using keywords (or search terms) in a product listing's title, uploading high-quality photos, setting competitive prices, and more.
Learn More About SEO for Amazon
How does Amazon's ranking algorithm work?
If you're familiar with Google's ranking algorithm, Amazon's ranking algorithm, A9, works similarly.
Like Google, A9 works to deliver the best, most relevant results to shoppers. That means, when someone searches "cold brew coffee maker," Amazon delivers a list of well-reviewed, competitively priced coffee brewers.
Amazon determines which product listings are relevant to a user's search by using its ranking algorithm. This algorithm looks at several different factors, including ones related to user behavior, like if someone who did the same search purchased the product.
If your company wants to appear at the top of search results for searches related to your product, Amazon SEO is a must. Even if you have a great product, like Dee, you might struggle to sell it if people can't find your product — and they're not going to dig through pages of search results to find it.
Especially because only 30% of Amazon shoppers visit the second page of search results.
Which factors matter most to ranking on Amazon?
According to Amazon, if you want to maximize your product listing's visibility, you should focus on:
Optimizing product listing titles with relevant search terms or keywords
Uploading high-quality product images, especially for your product's main or primary image
Updating product listing descriptions and features with helpful and detailed information
Generating positive, genuine reviews without incentives
Overall, most optimizations for Amazon SEO focus on your product listing. If you can build an informative and descriptive listing that targets the most relevant (and lucrative) keywords, you can not only rank higher on Amazon but also generate more sales from Amazon.
How to rank on Amazon: 7 steps for ranking higher on Amazon
Are you ready to learn how to rank on Amazon? Get started with these seven steps:
1.      Organize and optimize product listing categories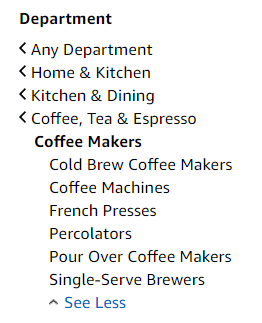 Before you begin updating your product titles, descriptions, and features, you want to optimize your product listing's category. Product categories serve as a handy filter for shoppers. Think about when you shop online — you probably use a filter to narrow your choices and find the most relevant results.
Even if you rank well for a search term, a shopper could quickly remove your listing from their results with a filter.
For example, say you sell a cold brew coffee maker and place it within the "Coffee Machines" category versus "Cold Brew Coffee Makers." Someone looking for a cold brew coffee maker takes their search to Amazon, and, planning to make their life easier, selects the "Cold Brew Coffee Makers" filter.
In an instant, your product listing disappears from their search results, which means you've just lost a potential sale.
Prevent that example from becoming a real-life scenario by classifying your products with Amazon's Product Classifier tool. This tool will help you search and find the most relevant categories and sub-categories for your products.
Once you finish categorizing your products, upload the new data to your Amazon account.
2.      Research keywords for product listings
Next, you want to start the process of researching keywords for your product listings.
TIP: If you have an expansive product catalog, focus on the products that matter most to your business. For example, if Coffee Maker A is your website's top seller, then you'll probably want to optimize its Amazon listing first.
When it comes to keyword research for Amazon, it's vital to review the two keyword types:
Primary keywords: A primary keyword is a keyword that appears in your product titles, descriptions, and features. It's visible to shoppers. When you choose primary keywords, choose keywords or search terms with the most searches and potential to turn into sales.
Hidden keywords: A hidden keyword is a keyword that appears on the backend of your product listings. Shoppers will not see hidden keywords. When you pick hidden keywords, focus on abbreviations, synonyms, and alternate names, like "lotr" for "Lord of the Rings."
How do you find keywords for your product listings, though? Use one of the following tools:
While you can use search suggestions on Amazon, which is when Amazon offers auto-complete suggestions for your search, this approach offers the least amount of keyword data.

Get the best results with SEO for Amazon by backing your strategy with a tool that provides accurate keyword data, like the ones we mentioned above.
For example, look at this keyword data from Ahrefs, a paid keyword research tool: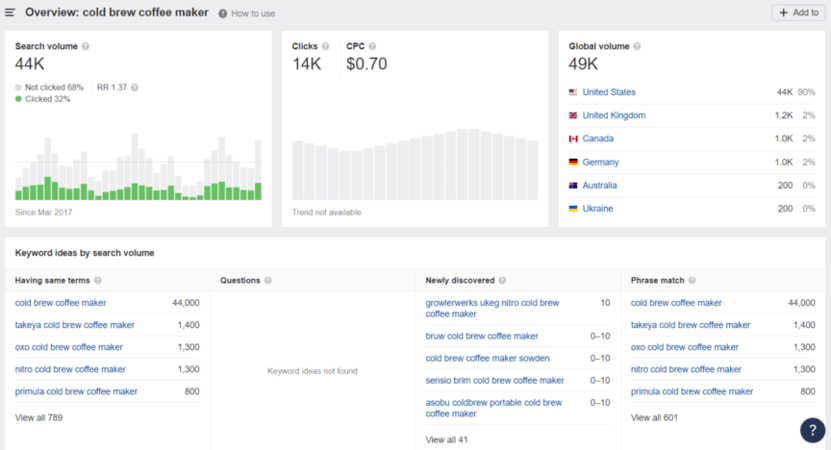 You can see that "cold brew coffee maker" comes with a massive monthly search volume — 44,000. In addition, you can see some branded searches, like "takeya cold brew coffee maker," as well as some non-branded searches, like "nitro cold brew coffee maker."
If you explored the full report, you could probably find other primary and hidden keywords to target.
Keyword researching for Amazon SEO takes time, especially if you're working on your entire product catalog. This step, however, is critical when it comes to how to rank on Amazon. You need keywords if you want your product to sell on Amazon.
3.      Switch to A+ Content
If you're not a brand owner and a part of Amazon's Brand Registry program, skip ahead to step four!
Brand owners and members of Amazon Brand Registry can take advantage of A+ Content.
A+ Content plays an indirect role in Amazon SEO. Still, its potential impact on your listing's traffic and sales makes it worth mentioning, especially since you'll update your product listing's title, features, and description in the next step.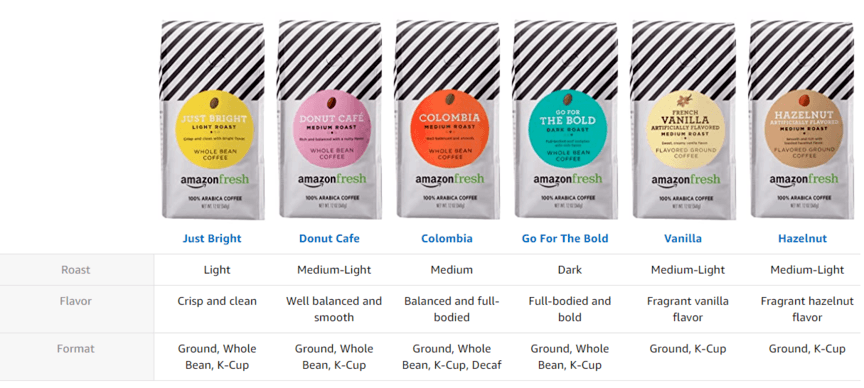 When a product listing features A+ Content, which updates your product description with images, charts, videos, and more, you can keep shoppers engaged and generate valuable sales. That increase in sales helps your Amazon SEO by signaling to Amazon that your product is relevant.
If you qualify for A+ Content, take advantage of it!
While this post on how to rank on Amazon covers how to incorporate keywords into your product listing, it doesn't explore how to design A+ Content. For that, you may want to consider working with an agency, like WebFX, which offers Amazon SEO services that include A+ Content setup and optimization.
4.      Add keywords to product titles, features, and descriptions
Now that you know which keywords offer your business the most value, you can start optimizing your product listings. For this step, you'll want to focus on your product titles, features, and descriptions, which Amazon looks at when compiling its search results.
Product titles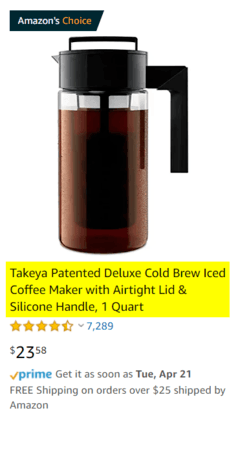 Your product title appears in Amazon search results and plays a critical role in whether your listing gets a click or a pass. Optimizing your product title can seem like a high-pressure task, but Amazon takes some of the pressure off by recommending this format: Brand + Model + Product Type.
Besides following this format, you also want to follow these best practices:
Capitalize the first letter of each word, except conjunctions, articles, and prepositions
Use numerals
Include the number of items included in a product pack
Spell out measurements and the word "and"
A few common mistakes when writing product titles include using:
Pricing, company, or seller information
Promotional messages, like "Free Shipping"
Subjective words, like "Best Seller"
Special characters or symbols, like ""
While you may want to include the fact that your product comes with free shipping, try to refrain.
Choosing to optimize your titles with any of the phrasing mentioned above will cost your business because Amazon will rank your product lower. These kinds of titles appear spammy to Amazon's ranking algorithm, so you need to focus on writing user-friendly product titles that are true to your products.
Keep in mind that Amazon will limit your product title to 200 characters. Depending on your product category, Amazon may require an even shorter product title. This rule can pose a challenge, especially when adding your keyword.
Where you place your keyword will depend on your product.
In most cases, the keyword appears after your brand or model name. For example, the keyword "cold brew coffee maker," may appear after the brand name for Cuppa Joe because the product model is "Cold Brew Coffee Maker 600."
Product features
Product features describe the bulleted list that appears at the top of a product listing.
Amazon uses your product features to learn about your product and its potential relevancy to different searches. Shoppers also reference your product features to find out more, like whether your product meets their needs.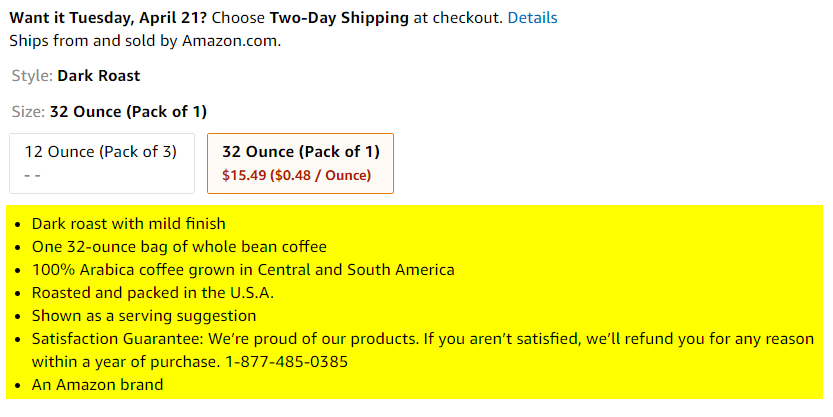 When optimizing your product features for Amazon SEO, follow these rules:
Write numbers as numerals
Spell out measurements
Begin each bullet point with a capital letter, like "One" vs. "one"
Use a primary keyword in each bullet point
You'll also want to avoid the following, which can hurt your rankings:
Promotional or pricing details
Seller, company, or shipping information
Hyphens, symbols, periods, and exclamation points, including ending punctuation
For the best results, Amazon recommends highlighting the following product information:
Contents
Care
Origin
Dimensions
Age group
Warranty
When creating your product features, put the customer first.
Think about what they want to know when checking out a product. People shopping for a cold brew coffee maker, for example, probably want to know if your product includes a warranty and what type of care it requires.
Product descriptions
Product descriptions, which appear near the bottom of your product page, offer another place for you to insert your primary keywords. You should also use product descriptions to share more helpful information about your product.

When writing product descriptions, include the following:
Product uses
Product features
Product dimensions
Care instructions
Warranty information
Avoid adding the following to your product description:
Website URL
Contact information
Promotional information
Company information
Seller name
Additional products
When it comes to how to use Amazon keywords in product descriptions, it's essential to add them naturally. You can easily keyword stuff a product description and make it unreadable, which will affect your Amazon rankings.
For the best results, you want to optimize your listing for Amazon, as well as shoppers. If you forget about the person on the other side of the screen, you will struggle to move inventory. People won't buy something if they don't understand how it will help them.
5.      Upload high-quality product images
The next step in how to rank higher on Amazon focuses on your product images.
Any photo you upload to Amazon should meet these standards:
JPEG, TIFF, GIF, or PNG format
sRGB or CMYK color mode
1000 pixels (or larger) for height or width
Besides these standards, you'll want to comply with best practices for Amazon's two image types:
Primary: Your primary image appears in search results. Follow best practices for primary images, which include taking a high-quality photo of your entire product and everything it includes. Use a white background and avoid adding any text, graphics, or inset images.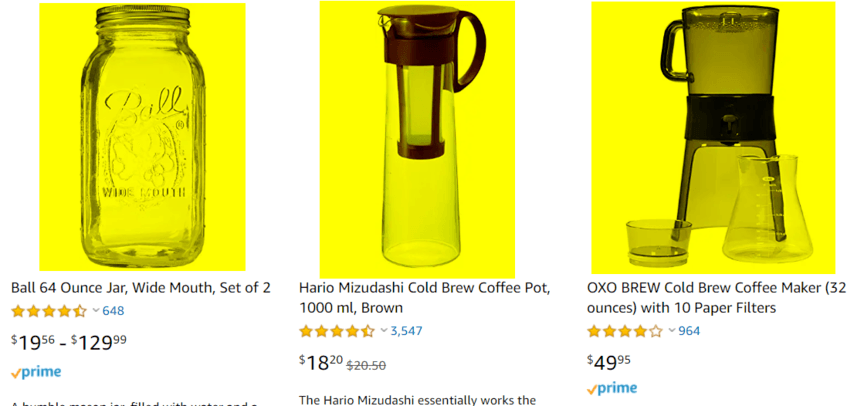 Other view: Your other view image appears on your product listing. Best practices for other view images include taking high-quality photos where your product takes up at least 85% of your image. Examples include lifestyle photos, size comparison photos, and more.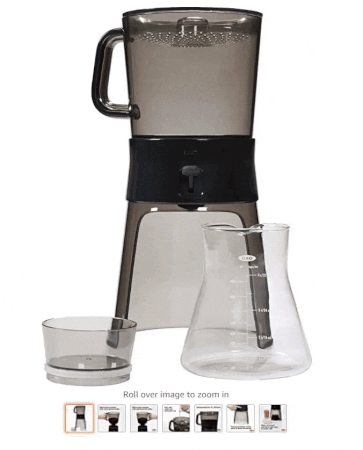 Optimizing your images can help your business not only rank higher in Amazon search results but also sell more products on Amazon. That's because online shoppers rely on images when making a purchase. If they can't see enough of your product in images, they likely won't buy it.
6.      Set competitive prices for products
Price is another important factor in Amazon SEO.
The cost of your product will influence whether someone buys from you or another seller. That's why it's vital to research competitor prices on Amazon so you can set a competitive but realistic price for your products.
A tool like Informed can help you monitor competitor prices and even adapt yours automatically.
When you maintain competitive pricing, you also get the chance to win Amazon's Buy Box. The Buy Box is a valuable piece of real estate because if someone clicks "Add to Cart" or "Buy Now," it's your product that gets purchased.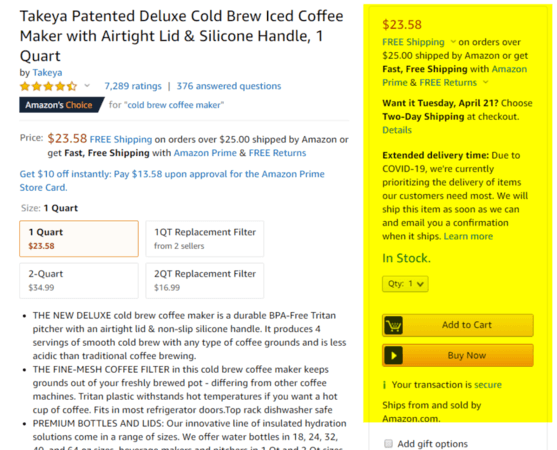 Keep in mind that a few other factors influence your ability to win the Buy Box, including your shipping times, customer reviews, in-stock consistency, and fulfillment options. A competitive price, however, is a significant one.
7.      Join Fulfillment by Amazon (FBA)
Companies that want to learn not only how to rank on Amazon but also how to rank higher on Amazon should think about using FBA. When you become an FBA member, Amazon takes the lead in packaging and shipping your products, as well as handling your product returns.
The advantage of using FBA for Amazon SEO is that FBA:
Unlocks Amazon Prime shipping
Expedites order fulfillment and shipping times
Improves shopper experiences
Providing Amazon Prime shipping helps your business reach another group of shoppers. People want their orders as soon as they place them, and with Amazon Prime, they can get their newest purchase in two days or less.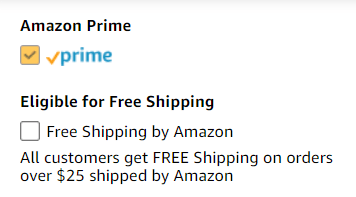 Shipping orders faster can help your company create a better customer experience. That improved customer experience, combined with a great product, can result in more positive reviews for your business and product.

Remember, Amazon looks at customer reviews when ranking product listings.
Attracting reviews is one of the most challenging parts of SEO for Amazon. With FBA, however, you can increase your chances of motivating shoppers to leave a review by delivering their product as soon as possible.
Rank higher (and earn more sales) with Amazon SEO
Amazon SEO is essential for businesses selling on Amazon.
If your company doesn't optimize your listings for SEO, you will struggle to sell products and turn a profit. That's why it's critical to either learn how to rank on Amazon or hire an Amazon SEO agency that does.
At WebFX, we're an experienced Amazon SEO agency, having helped our clients manage more than 11.6 million transactions in the past five years. When you partner with our award-winning team, you can trust we'll help your Amazon Store thrive.
Contact us online or call us at 888-601-5359 to learn more about our Amazon SEO services!
The post What Is Amazon SEO? (And How to Rank Higher on Amazon With SEO) appeared first on WebFX Blog.