Here's a great article from WebFX Blog

Did you know 74% of people use social media when making purchasing decisions?
Advertising on social platforms allows you to boost brand exposure and reach ready-to-buy shoppers.
Want to maximize the impact of your social media ads in 2020? Here are eight social media ad trends you'll want to master!
Just keep reading — or contact us today to get started with social media advertising!
1. Social media video ads
In 2020, you'll want to make video ads part of your social media strategy.
Social media videos are massively effective as a method of advertising since people are 10x more likely to interact with a video than with text.
Adding videos to your social ads will help your brand stand out — and in 2020, video ads with engaging storytelling will become a must-have in any advertising campaign — not just social media marketing.
With new and exciting formats for video ads like 360° and augmented reality videos (and more are sure to come in the few next years), your business has more options than ever for creating and sharing video content on social media.
2. Social marketplace ads
This year, we plan to see even more people purchasing directly from social media platforms — especially with the introduction of platforms like Facebook Marketplace for Business that allows people to buy without leaving Facebook.
If you sell products online or offline, think about hosting them on social media marketplaces because 74% of people use social media when making purchase decisions.

That means that they're using social media sites to complete the whole process of researching and buying products, which provides you with the unique opportunity to advertise your store or items directly on Facebook Marketplace for more brand awareness and conversions.
And with Facebook and other social networks letting you create product ads to promote your offerings, as well as sell them on the platform, it means that you can have your whole advertising campaign and store in one place, creating a seamless experience for your customers, which is ever increasingly important in 2020.
3. Social story ads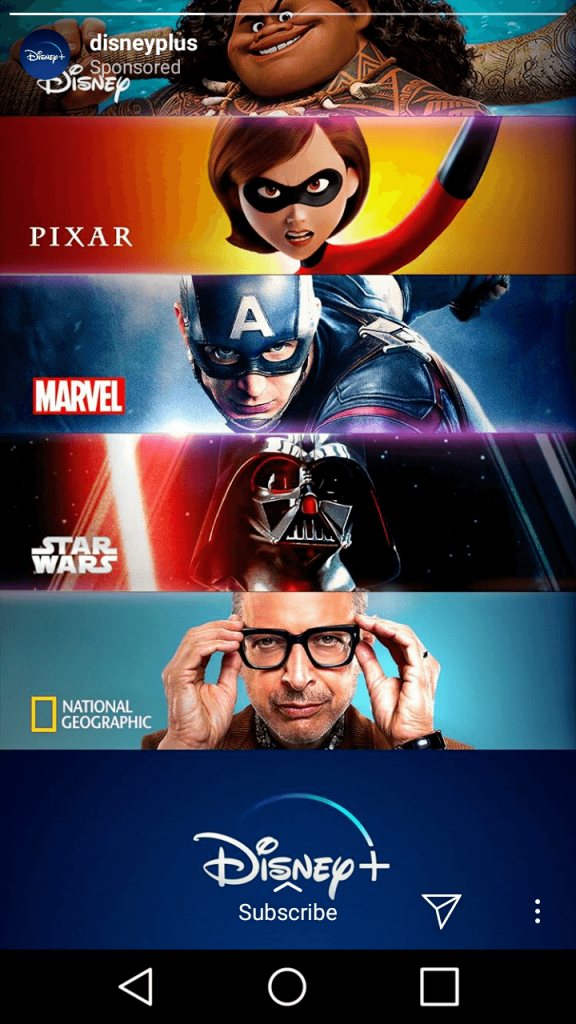 Social media stories have met with huge success on Instagram and Snapchat, and in 2018, Facebook introduced a social story platform. With the increased interest in social stories among platform users, companies have a huge opportunity to use social story ads to promote their brand identity this year.
Social stories are a collection of short-lived pictures and videos, and they give users an interactive way to keep up with their social circles.
It's a great advertising opportunity for companies going into 2020, and as more brands successfully adopt story ads into their advertising campaigns, more businesses will want to hop on the bandwagon this year to remain competitive.
Since social story ads are also short-lived, companies can create ephemeral ads.
Ephemeral content is one of the best advertising methods to generate the fear of missing out (FOMO) in your audience. When your sponsored story content doesn't last long, your audience makes the effort to view it if they want to stay in the know.
Strangely enough, or perhaps not so surprisingly, this creates a Pavlov's dog effect. You'll essentially train your audience to check up on your social story ads regularly because of FOMO.
4. Live stream advertising
Live-streaming advertising will also see a boom in 2020 on social media platforms like YouTube.
Live streaming has always been a popular format that made increasing engagement in videos much more manageable. It allows users to be in the moment even when they can't be there in person.
Google gives three different types of live-streaming ads on YouTube if you have a channel that is enabled for monetization:
Pre-roll ads: Ads that run before a live stream that users can view on both mobile and desktop
Mid-roll ads: Ads that run during the live stream and can be manually inserted during desktop streams
Display and overlay ads: Ads that run alongside or over content that users can view on desktop
Google also made a recent change in 2019 that lets you promote your YouTube live streams in display ads, so they can show anywhere display ads are shown. When people click on the display ad, it will expand, and they'll be able to interact with the ad as they would with any other live stream on YouTube.
Since live-streaming is free on YouTube, you'll only have to pay for the ad unit itself to show off the personality of your brand and to humanize it as well.
And because social media sites are integrating live-streaming into their video software, you don't have to pay for expensive video equipment.
5. Algorithm and AI updates for ads
The incorporation of AI is not so much an advertising method, but it'll have a massive impact on social media ads in 2020. In fact, it'll affect, in great depth, the algorithms that social networks use to deliver relevant ads, and this is exciting because who doesn't want relevant ads?
Machine learning is making great strides in providing relevant ads to the customers that want them most, and in 2020 that'll grow exponentially.
For Facebook advertising, AI determines how much you pay for your ads and how to display your ads based on your ads' frequency and relevance scores. Facebook's algorithms also factor in user's feedback when determining your relevance scores.
As AI algorithms gain accuracy, your return on investment (ROI) and paid ad performance will increase.
It'll be exciting to see just how much AI improves this year and what it'll mean for social media marketing, so keep your eyes open and hold on tight.
6.    Social media listening data for ads
AI is taking over social media listening. It's a good thing, too, because, with all the posts and comments generated every second on all the various social media platforms, it would be impossible to keep track of it all with humans alone.
With increased social media capabilities in 2020, you'll be able to pick up on trends among your audience and industry easier. You can also monitor how your ads are performing by picking up on how your audience is reacting to your paid ad campaigns.
You can then take this data, and along with your social media ad analytics, optimize your paid ad campaigns and drive better results.
In 2020, strategies for remarketing will center on more accurate data. With the help of social media listening, your ads will target your audience with more efficiency and more results.
7. Chatbots for social advertising
AI will also increase the capabilities of chatbots used in social media advertising in 2020.
Chatbots are a great way to increase user experience (UX) and interaction for your Facebook Messenger ad campaigns.
They can save you time and money by acting as a quick customer service interface on social media, saving you time and resources by responding to your audience for you.
With the integration of chatbots with search capabilities into social media messaging sites, you can boost your audience's social media ad campaign engagement by providing them with meaningful, personalized conversation and content using your chatbot.
Chatbots create a one-on-one interaction between your brand's paid ads and your users on social media via answering questions about products, signing people up for email newsletters, or helping solve technical issues, to name a few.
With the rising abilities of AI, chatbots on social media will become a more and more serviceable device for companies.
The information they can provide will become more in-depth and more accurate, and their ability to gather leads will increase, so chatbots will be a great way to improve the UX of your paid ads for this year.
8. Increased social ad budget
In 2020, social ad campaigns will cost you more if you want to stay visible in the competitive market.
With changing social algorithms, it's harder to drive organic social media results. And we're seeing a greater need to increase paid ad budgets to remain competitive this year. You'll not only need to spend more, but you'll need to spend smart.
We talked about how algorithms will incorporate more machine learning this year. Machines learn through lots and lots of data, and for ads to be relevant, much of that data comes from users. Their interests, behaviors, and demographics help machines determine who is likely to convert.
When you pay for ads, you pay for the data. The more money you budget for your social ad campaign:
The more data gained
The more reach received with each ad
The less time spent in optimizing your ads
The less time waiting for ROI
Social media ads 2020: Stay ahead of the game with WebFX!
Need help incorporating these new trends into your social media advertising campaign? WebFX can do that! With over 165,000 social posts published for clients, we've got you covered.
Stay up-to-date with all the new social media advertising trends for 2020 with our handy social media blog!
The post Social Media Ads 2020: 8 Trends Worth Adding to Your Strategy appeared first on WebFX Blog.