Here's a great article from WebFX Blog

Whether you want to boost leads or attract more qualified candidates, social media advertising can help you accomplish your business goals.
Specifically, LinkedIn advertising services allow you to connect with professionals in your industry, earn more leads and candidates, and grow your business.
In this post, we'll look at seven tips for running LinkedIn Ads that drive results. If you need help getting started with LinkedIn ads, call us today at 888-601-5359 to speak with a strategist about advertising on LinkedIn.
1. Tailor ads to your target audience
When you start running LinkedIn ads, it's essential to know who you're trying to reach, so you can tailor your ad format and content to match their needs and interests.
There is a variety of criteria you can use to target your audience. Let's take a look at some of the audience parameters you can set for your LinkedIn ads:
Company name, industry, or size of a company
Job title, function, or seniority
Schools attended
Skills
Gender or age
Groups
Fields of study
Degree
These are the main categories you can use to group people and target them specifically. Since LinkedIn is a professional network, many of the categories focus on occupational status.
This hyper-specific targeting makes it easy for you to reach the right people. In fact, LinkedIn is 277% more effective for lead generation than other social media networks — due to its advanced targeting options.
2. Choose an ad type that works best for your campaign
When you run LinkedIn sponsored content, you can choose from multiple types of LinkedIn ads. Let's look at the three ad types you can use for your campaign.
1. Sponsored content
Sponsored content ads are native ads that appear directly in a user's feed. When users scroll through their feed, these ads will appear seamlessly with other content in their feed.
When you use sponsored content, your content will appear on all types of devices. You can use these ads to drive leads, build brand awareness, and nurture relationships.  These ads allow you to target professionals most interested in your business and create an ideal audience.
2. Sponsored InMail
Sponsored InMail is another great ad type you can use to reach people directly. This ad format allows you to deliver personalized and relevant advertisements to interested leads.
When you send Sponsored InMail, your ad goes directly into a user's inbox. They receive these messages, which are mostly text-based messages. The Sponsored InMail ads look just like any other professional message you would receive from a business.
3. Text ads
Text ads operate like pay-per-click (PPC) ads. These ads appear on the sidebar of LinkedIn's site.
These ads operate on two different payment options: pay per click and cost per impression. You either pay each time someone clicks on your ad or each time 1000 people view your ad. LinkedIn allows you to choose which format is best for your goals and budget.
These ads are great for driving leads and reaching people interested in your business.
3. Pick the ad format that works best for your campaign
Once you pick your ad type, you'll want to choose the ad format that works best for your campaign. The type of ad format will depend upon the type of ad content you run. There are a variety of formats you can choose to make an appealing ad, including:
Text ads: When you create these ads, they only include text. You'll find these ads on the sidebar of your feed. This ad format is only available for text ad types.
Single image ads: These are the most common ads you will see on LinkedIn. They typically feature a high-quality and exciting photo with some text. This format works best with sponsored content.
Carousel ads: You will use Carousel ads solely for sponsored content. With carousel ads, you have multiple images in one ad. It's a great ad to showcase numerous products or span one image over the entire carousel.
Video ads: Video ads are a great way to engage your audience and get them to interact with your content. These ads are great for providing your audience with an abundance of information in a short period. You can use these ads in sponsored content.
Follower ads: With follower ads, you promote your LinkedIn page with the sole purpose of driving more members to follow your LinkedIn page. This format is an excellent option if you want to grow your LinkedIn page and help more people see the content you post on your page. You can use this ad format in sponsored content or InMail.
Spotlight ads: These ads allow advertisers to showcase products, services, and more. When someone clicks on your spotlight ad, you direct them to a landing page or page on your website. You will only find spotlight ads with sponsored content.
Job ads: If you're looking to recruit new talent for your company, you can use LinkedIn job ads to help you find new employees. These ads will help you earn better candidates to fill your open positions. You can use this format in sponsored content or InMail.
You'll want to choose the ad format that works best for your campaign and your goals. It will help you create a successful advertising campaign on LinkedIn.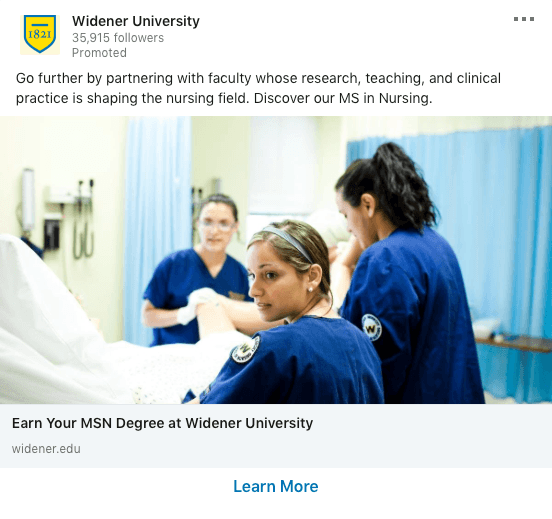 4. Choose the right objective for your LinkedIn sponsored content
When you run an advertising campaign, you must have a goal in mind. It's crucial that you set a goal for your campaigns, so you know what you're trying to achieve.
With LinkedIn ads, there are numerous objectives you can try to achieve with your LinkedIn ad:
Website visits: This objective focuses on how much traffic you drive to your website and landing pages. If your goal is to increase traffic on either of these, you can set this objective to help you measure the results better.
Engagement: With engagement, you aim to increase interactions on your content and gain new followers. This objective is an excellent option if you're looking for more activity on your LinkedIn page.
Video views: If you're running a video advertisement, you can set a goal to focus on video views. This goal is great for seeing the increase in engagement and exposure of your video ads.
Lead generation: If you're running a form, you can use this objective to measure how many people engage with your form. This objective is great if you're trying to get people to sign up for an email list or attend an event.
By choosing your objective, you'll know what to focus on for your LinkedIn sponsored content. It will help you understand what you're trying to achieve with your campaign and focus on that goal.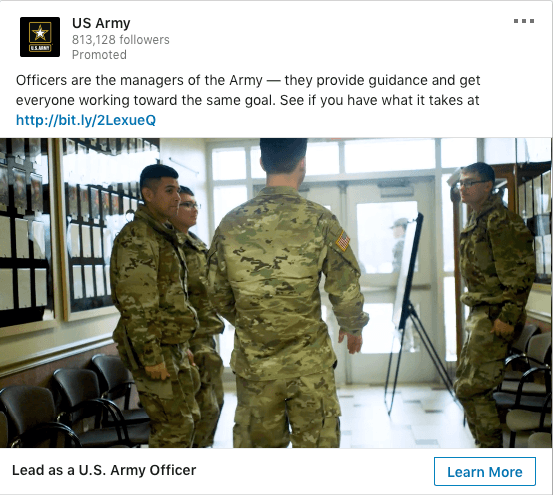 5. Create personalized ads to reach more interested leads
If you want to reach your audience and get them involved in your business, products, or services, your best option is to create personalized ads. Personalized ads allow you to deliver a tailored experience for the audience and their unique interests.
Personalization is a crucial component of any successful advertising campaign. Not everyone will be interested in your business for the same reasons. It's vital that you appeal to them based on their interests.
Let's say you own an HVAC company. You're going to have people that are interested in your business for your air conditioning services, while others are interested in your heating services. If you ran one generic ad, it wouldn't appeal to different segments on your audience.
Creating personalized ads allows you to target people specifically, by categories like job title, company name, and more. You can reach them by creating ads that fit their interests, so they are more likely to engage with your content. In this case, you would create a personalized ad for those interested in your cooling services and a separate personalized ad for those interested in heating services.
By creating personalized ads, you'll increase engagement and get more people to interact with your LinkedIn ads.
6. Make sure your ads look professional before publishing
Whenever you put out content, you want it to look good and positively reflect your business. When you're creating LinkedIn ads, you must ensure that your ads are professional and error-free before publishing.
LinkedIn is a professional networking site. It's crucial that you deliver an ad copy that is extremely clean and error-free. You're trying to network with professionals, so you must create a polished presentation of your ad.
First, check your ad to make sure you don't have any spelling mistakes or grammatical errors. You'll also want to make sure that your visuals look authentic, as images that look too much like a stock photo won't generate the best results.
Also, make sure your information is clear and that you provide your audience with all the information they need to interact with your campaign.
By polishing your LinkedIn sponsored content before publishing, you'll create a more effective campaign that engages your audience and gets them interested in your business.
7. Test your ads
Before you launch your ads to the public, it's essential that you test them. You want to ensure that you put out the best copy of your ad.
It's crucial that you run A/B tests on your ads to ensure you're putting out the most effective version of your ad. You can run an A/B test on LinkedIn by showing two different ad creatives to the same audience and seeing which one generates more clicks, leads, and more.
This process is also an excellent opportunity to test different types of LinkedIn ads. You can see if a carousel ad or photo ad works better for your audience and how it affects their engagement.
By testing your ads, you will produce the best ads for your LinkedIn campaigns.
Start running effective LinkedIn ads today
LinkedIn ads are an excellent opportunity for you to reach professionals. You can advertise your business, products, and services to people who are most likely to be interested in them. If you're ready to start reaching more leads interested in your business, WebFX can help.
We have a team of over 200 experts that will help you build a LinkedIn advertising campaign that enables you to grow your business. We'll help you create ads that resonate with your audience and get them to engage with your business.
If you're ready to start driving valuable results with your LinkedIn campaign, contact us online to see how we can help your business grow.
The post 7 LinkedIn Ads Tips for Running Successful Ads appeared first on WebFX Blog.