Here's a great article from WebFX Blog

In this video, Hunter from the WebFX social media team discusses Instagram growth hacks that work for SMBs. 
Transcript: 
I have six growth hacks for Instagram that can help you get more engagement — and more followers — for your account. And no, these aren't your typical spammy growth hacks…like using 500 hashtags or tagging everyone you know with each post. 
Let's get down to business.
Instagram growth hack #1: Use Instagram Stories for content research
Understanding what people want to see on your Instagram account can help you focus your Instagram growth strategy on posts that will actually get engagement.
When you create a Story, you can add interactive stickers that give people the option to answer questions, take polls, or share their feelings about whatever you decide to post.
Use these stickers to gauge interest in different types of posts. 
If you run a business that sells products and want to get a better feel for which items resonate best with your audience, ask people what they want to see from you.
Try a "This or That" game comparing different products that you offer. If you notice some products consistently win over others, you might want to lean into more content about the popular products. 
You can also directly ask people what they want to see. Post a photo of one of your products and add a "Yes or No" sticker with the question, "Would you like to see more products in your feed?"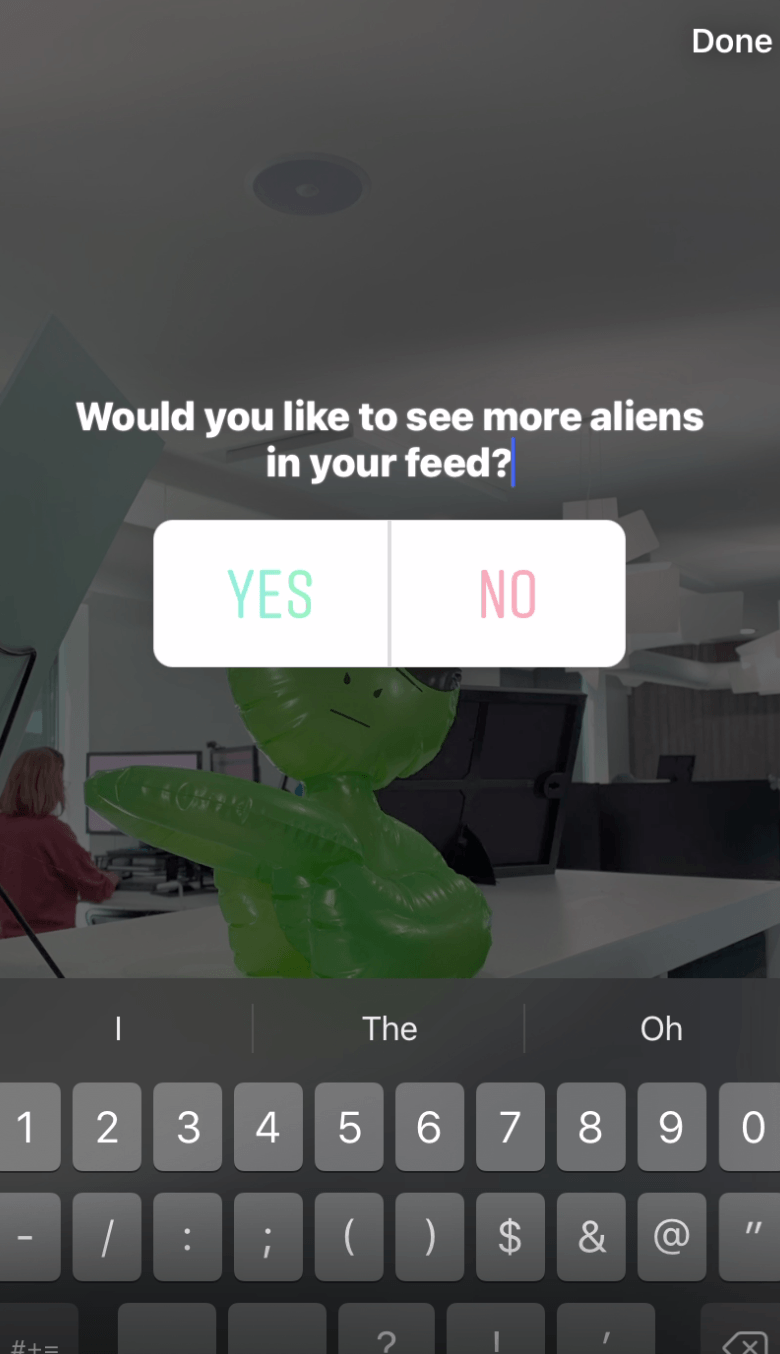 Obviously, you don't have to use that exact wording. Just pay attention to how people react. 
Instagram growth hack #2: Create easily shareable graphics
Give the people what they want — something noteworthy to share with their friends. 
Instagram loves when people engage with your posts. It's a part of the algorithm, actually. 
If your followers share your posts, their friends may share it (and so on), leading to even more followers and great engagement with your content.  
Just make sure your logo or username is somewhere on the graphic in case people share it without tagging you or linking back to you.
You can certainly get creative with what you share. You may have seen customizable story graphics going around that asked people to add stickers or tag their friends. Things like statistics or infographics designed in an eye-catching way are also great for people to post to their Instagram Stories or Feeds. 
Instagram growth hack #3: Interact with other Instagram accounts
Responding to messages and comments on your own profile is great, but have you tried commenting on other people's posts and Stories?
This Instagram hack really doesn't take much effort. If a person or company you follow posts something comment-worthy, chime in. Leave a compliment. Add a bit of insight. 

If you share a post relevant to another business, tag them. Emphasis on relevant. 
Don't try too hard to sell something, though. The goal is to get your brand in front of others and start to form relationships. 
That leads me to collabs. It's no Instagram secret that collaborating on social content with another brand or influencer can help you reach new audiences. And you don't have to work with huge corporations to see results.
If your company sells activewear, and you know a local fitness influencer or gym owner who would work with you, pitch a collab idea. It's likely their audience overlaps a lot with your audience, which can get you and your collab partner some great results in the end. 
Instagram growth hack #4: Create specific offers for your followers
Sometimes, posting great content isn't enough for everyone. People might need an incentive to follow you or engage with your content.
Offer them something they can't get anywhere else. Create and link a guide that answers common questions your followers ask. Maybe you share a post with a coupon code that you're going to delete in 24 hours. 
Instead of constantly asking people to follow you, give them something that will make them want to follow you.
Think about what unique thing you can do to get people interested in your Instagram account.
Instagram growth hack #5: Pay attention to trends 
Remember the Mannequin Challenge? The Ice Bucket Challenge? The Cinnamon Challenge? Okay, I wish we could forget that last one. 
But don't ignore trending topics, challenges, or memes. Yes, memes. 
If there's a way you can take something popular and make it work for your brand, do it. But don't wait around until a new trend takes its place. 
Instagram Reels allow creators to use trending audio in their videos, so if you've wanted to use video more often, that may be a good place to start. If there's a certain song that's making the rounds on social media, try to make it work for you.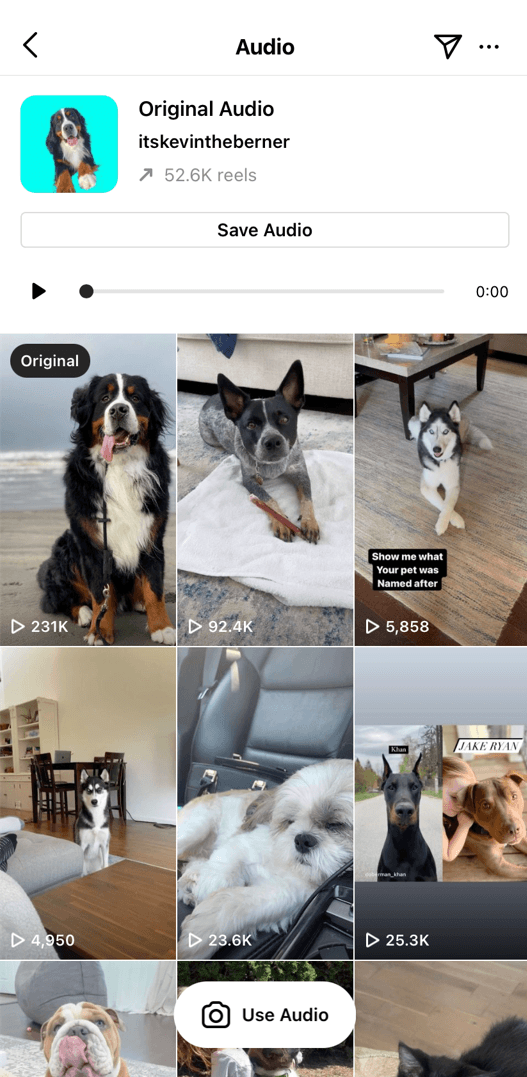 Don't force a random sound to work, though. It has to make sense to be good.  
Instagram growth hack #6: Use Instagram SEO
People need to be able to find your account to follow you and interact with your content. Instagram SEO can help with that.  
You really can't leave SEO out of your Instagram growth strategy. A lot of it comes down to keywords. 
You probably have certain words or phrases you want people to connect with your business. You can create a list of keywords that work for you using a free SEO tool like KeywordsFX or KeywordTool.io. 
Once you have your keywords, use them in places such as your:
Account name

Bio

Hashtags

Post captions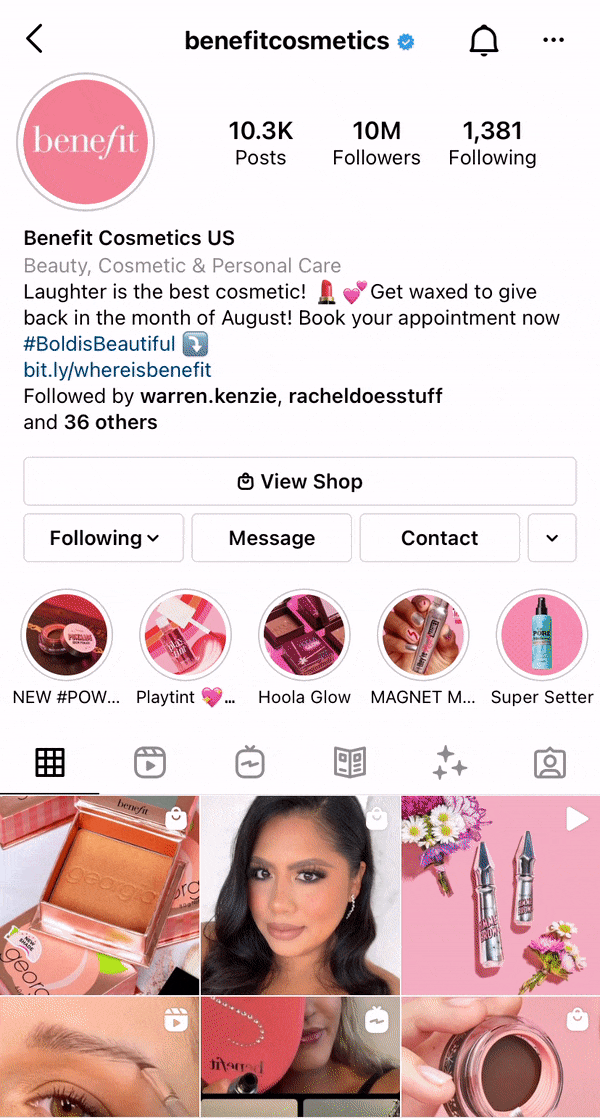 If you optimize your account and your posts well, you have a better chance of showing up on the Search and Explore feature, which can help new people discover your account and become devoted fans. 
Now it's time for a shameless plug about following WebFX on Instagram. I probably should mention that it's a good Instagram growth practice to promote your account on your website, emails, or other social media accounts. 
And just two more requests before you skip to the next video. I promise. First, if you found this video helpful, hit that YouTube subscribe button. And lastly, we've got an awesome email newsletter for you where we cover the latest digital marketing topics. I've put the link to Revenue Weekly in the video description.
That's all for now! Thanks for watching!
The post 6 Instagram Growth Hacks for Businesses (That Actually Work!) appeared first on WebFX Blog.